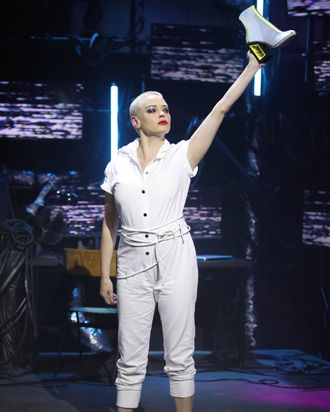 Rose McGowan.
Photo: Mike Marsland/Mike Marsland/WireImage
Rose McGowan opened Nicholas Kirkwood's London Fashion Week show. She modeled Kirkwood's spring/summer 2019 shoe designs by holding a pair of the boots high above her head. She was barefoot.
Kirkwood's show was designed to feel like an immersive theater experience. The show was called "Hacking and Activism" and touched on themes of resistance, protest, and women fighting back. Each of his designs seemed sturdier, shoes a woman could do work in.
The models wore all-white clothing and walked in front of a heaping pile of old computers and televisions with flashing screens.
At the show, which was McGowan's first, she spoke to The Guardian about the year that has passed since she formally accused Harvey Weinstein of rape.
"To everyone else, it seemed like it happened so fast, but for me it's been very slow," she said, of the accusations that were made against Weinstein. "It's been a long haul. I'm really gratified that people are questioning what is acceptable, but it's been a hell of a year."
She also said that while the #MeToo movement has made great progress in the last year, there is still a lot of work to be done.
"We are a lot further along than where we were, but we are still on a razor's edge," she told The Guardian. "We have to start a new conversation."