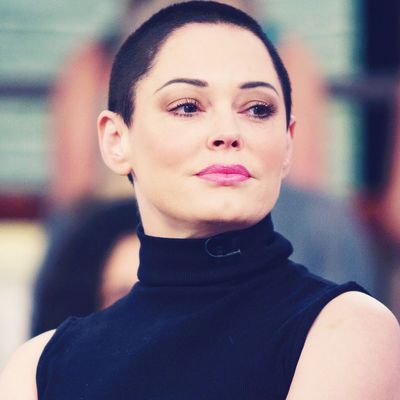 Rose McGowan.
Photo: NBC/Nathan Congleton/NBC
Ten days after Asia Argento threatened to sue Rose McGowan over "false statements" she made regarding the sexual-assault allegations against Argento, McGowan has released an apologetic statement claiming that she regrets spreading "a number of facts that were not correct." An hour later, Argento tweeted that she "appreciated" McGowan's apology, but that it was too little too late.
On August 19, the New York Times reported that Argento had made a deal to pay off Jimmy Bennett, a former co-star who accused her of sexually assaulting him when he was a minor — an allegation that Argento swiftly denied, which was in turn contradicted by a number of incriminating leaked text messages that TMZ published. Then, less than a week later, McGowan released a statement revealing that the leaked texts came from the person she had been seeing, Rain Dove; she also alleged that Asia told Rain that "she'd been receiving unsolicited nudes of Jimmy since he had been 12."
More than two weeks later, Argento gave McGowan 24 hours to "retract and apologise for the horrendous lies made against [her]," which McGowan did not meet. (The next day, Argento tweeted that she had instructed a law firm to file a lawsuit against McGowan and Dove.) But on Thursday, long after she had missed the deadline, McGowan released a statement on Twitter, writing that she "misunderstood" texts that Argento and Dove exchanged.
"On 27 August I released a statement about Asia Argento, which I now realized contained a number of facts that were not correct," she wrote. "The most serious of these was that I said that the unsolicited nude text messages Asia received from Jimmy Bennett had been since Jimmy was 12 years old. In fact, I had misunderstood the messages that Asia exchanged with my partner Rain Dove, which made clear that Jimmy had sent Asia inappropriate text messages only after they met up again when he was 17 (still legally a minor in California, but notably different from a 12 year old)."
She concluded the statement by expressing her regret for not correcting her statement sooner — an apology that Argento "appreciated," but that came days too late, as the actress claims that McGowan's allegations against her subjected her to harassment and led to the loss of a job.
"Although I am grateful to @rosemcgowan for her full apology following her groundless allegations about me, if she had issued it earlier, I may have kept my job on X-Factor and avoided the constant accusations of paedophilia which I have been subjected to in real-life and online," she tweeted.
One minute later, she replied to her own tweet, "Now go on, live your life and stop hurting other people, will you Rose? Best wishes."