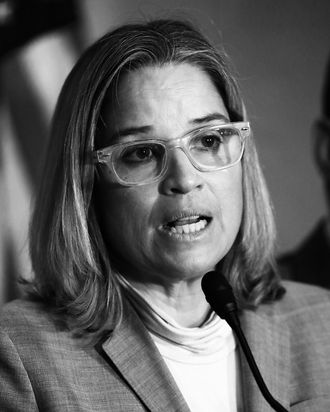 Photo: Mark Wilson/Getty Images
As the mid-Atlantic states ready themselves for the impact of Hurricane Florence, President Trump is busy defending his administration's disastrous response to last year's slew of hurricanes by tweeting — falsely — that Hurricane Maria didn't kill that many people in Puerto Rico, and that Democrats inflated the official death toll to nearly 3,000 in order to make him look bad. But San Juan's mayor, Carmen Yulín Cruz, is not having it.
In a series of tweets posted shortly after the president's, Cruz shared screenshots of Trump's comments, writing, "In the real world people died on your watch," and "you can try and bully us with your tweets BUT WE KNOW OUR LIVES MATTER."
She added that, "Thousands of americans, our diaspora & latinos that came to PR to care for us and become advocates for our people deserve better than this."
Cruz's tweets come one day after the president called her "incompetent" in a tweet about his administration's "unappreciated great job in Puerto Rico." This is far from the first time the two have butted heads. After Hurricane Maria, the mayor said in a press conference, "I am begging, begging anyone who can hear us to save us from dying." The next day, President Trump tweeted that she was being "nasty" to him. Cruz has continued to criticize the Trump administration's relief effort, telling Marie Claire in August that Puerto Rican lives "are not on the radar" for President Trump.
A recent independent study from George Washington University, which was commissioned by the administration of Governor Ricardo Rosselló, found that Hurricane Maria and its aftermath had killed at least 2,975 people in Puerto Rico; a Harvard study from May put the figure at over 4,500. Many of these deaths were caused by an inability to access medical care while most of Puerto Rico lacked electricity in the weeks after the storm.
In a press conference on Tuesday, Trump insisted that the response to Hurricane Maria "an incredible, unsung success," and also described Hurricane Florence as "tremendously big and tremendously wet."
"God help us all," Cruz tweeted after the press conference.