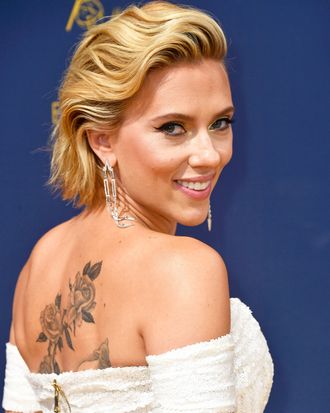 Scarlett Johansson.
Photo: Frazer Harrison/Getty Images
Large, permanent back tattoos are popping up on the bodies of some of Hollywood's most famous actors. First there was Ben Affleck and his full-color back tattoo of a phoenix rising from the ashes. Now, there's Scarlett Johansson's black ink flowers, which made their debut on the 2018 Emmys red carpet.
The tattoo peeked out from her off-the-shoulder white gown, and it was the first time the body art had been seen at a major event — but it is not the first time the tattoo was photographed.
Refinery29 reported that ScarJo was sporting the flowers back in 2017 on the set of The Avengers, but it was unclear if the tattoo was temporary, or for an upcoming role. But now, with another sighting over one year later, it all but confirms that the tattoo is a permanent part of her body now.
Do you think it's as itchy as Ben Affleck's?