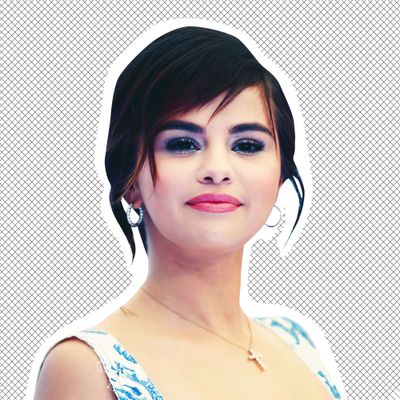 It is officially back-to-school season, which means celebrities are shaking off months of partying in the South of France and Lake Como and Malibu and getting more serious about their images for the rest of the year. Relatedly, two big October magazine covers dropped today. First, there's British Vogue, featuring David and Victoria Beckham, telling us all about how they're not getting divorced. (Are you convinced?) And then there's Elle, featuring Selena Gomez, telling us … not much of anything.
In her first major interview since Justin Bieber announced his engagement to Hailey Baldwin, Gomez declined to comment on Bieber or anything to do with her personal life. She also declined to comment on her decision to work with Woody Allen on A Rainy Day in New York. Instead, she told interviewer Mickey Rapkin about volunteering with an anti-human-trafficking nonprofit that she discovered through Hillsong church. She also revealed that she recently left L.A. for the quieter enclave of Orange County, and that she is living with a friend from Hillsong, Raquelle Stevens. (Earlier in the summer, Gomez was rumored to be dating Raquelle's 18-year-old brother Caleb Stevens, but Elle didn't mention that, because, you know, it's personal.)
The scant details Gomez did provide paint a limited picture of her life, post Bieber-Baldwin engagement: She is focused on herself and helping others and remains fully ensconced in Hillsong, the Pentecostal church that brought Bieber and Baldwin back together in the first place. It's funny: For all we've heard about celebrities joining Hillsong (and related Pentecostal churches in L.A. like Zoe and Churchome) over the last few years, we've never heard about any of them leaving. Even though Bieber reportedly had a falling out with Hillsong's New York pastor Carl Lentz earlier this year, he has continued to attend services with Baldwin. (Here he is walking into the same L.A. service as his old fling Kourtney Kardashian last week.)
So far, Gomez has not been spotted at any of the same services as Bieber and Baldwin. How long will the three of them be able to keep that up, if the church is the most important thing happening for all of them right now?
Fellow Pentecostal megachurch followers Chris Pratt, 39, and Katherine Schwarzenegger, 28, were "caught" by the paparazzi on a few dates again this week, signaling that their relationship is chugging right along. Pratt was also spotted spending time with his ex-wife Anna Faris and their 6-year-old son, Jack, which suggests that everything is amicable there. (Faris has been dating the cinematographer Michael Barrett since October of last year.) In August, The Blast reported that Pratt and Faris's divorce was just about finalized, paving the way for Pratt to get more serious with Schwarzenegger.
Also getting serious is the best Vanderpump Rules cast member Lala Kent, 28, with her once-married producer boyfriend Randall Emmett, 47. Emmett proposed to Kent with a six-carat diamond ring this past weekend, and — thank God — a People photographer was there to exclusively capture the whole thing.
And in, uh, slightly more complicated celebrity relationship news, Playboy model Shauna Sexton, 22, broke her silence this week about spending time with Ben Affleck, 46, before he went back to rehab. She responded to an Instagram commenter suggesting that she contributed to Affleck's alcohol problems by stating that she never "drank around or with him" and that "Ben is a grown ass man, baby. He makes his own decisions. Blaming a 22 year old for someone's 3rd time in rehab is just ridiculous." I have to agree!
One small blessing from this week:
"Gwyneth Paltrow and ex-husband Chris Martin look mesmerised as they watch a DOG go surfing during friendly day out at the beach."
And here's an interesting blind item from this week, care of Enty at Crazy Days and Nights:
"This A list country singer knows he has two hours each Sunday when his celebrity girlfriend is occupied with church. Funny how he always has something to do at that time. Maybe spending some time with that woman who delivers his meals each week who always shows up right when the girlfriend heads to church. Huh."
Oh dear.
Finally, I'll leave you with this photo of Jonah Hill walking in New York this week. I hope the transition to fall is peaceful for all of you.
Thanks so much for gossiping, and don't forget to send me a message on Twitter, or contact me on Signal, if you'd like to chat.