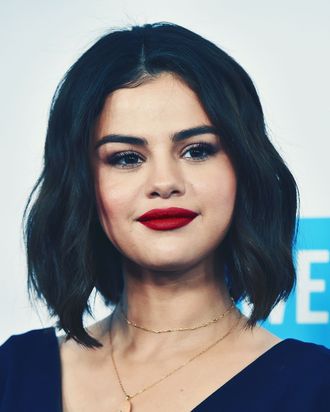 Selena Gomez.
Photo: Axelle/Bauer-Griffin/FilmMagic
Like many people who take a deliberate break from social media, Selena Gomez wants you to know she's doing it.
"I'm not on the internet," she said in an interview with Elle. "I haven't been on the internet in months. I don't have my password for Instagram. I have no apps on my phone, no photo editing apps." She added, however, that she still has Peak, a "brain game."
Another caveat, which Elle kindly places in parentheses:
(Gomez still updates Instagram from her friend's phone, who has access to her account.)
Gomez further explained that she decided to split with social media because "it's not real to me." "As far as my personal life, someone sees me having a glass of wine? I could give two shits," she continued. "I'm not trying to hide. That's my life. I'm living it the way I want to live it. But it's about making a conscious effort — if I can have a moment to be with my friends, I'll take that time. So I don't have any of it. I had to make that decision."
A tough decision indeed.