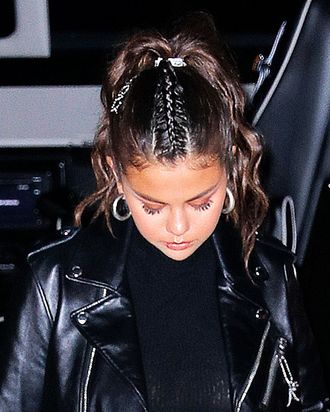 Photo: Jackson Lee/GC Images
Today is the final day of New York Fashion Week, but I'm calling it early: The hottest new trend for spring 2019 is bringing your beef with you to New York Fashion Week. The latest evidence comes from Selena Gomez, current face of and co-designer for Coach, and social media feuder with Dolce & Gabbana. To set the scene, we have to jump back to June of this year and onto Instagram (where many a Gabbana tiff starts).
Over the summer, The Catwalk Italia Instagram account posted an innocuous grid of Gomez in five different red dresses with a caption instructing followers to "Choose your fave: 1,2,3,4, or 5?" Instead of following the very clear directions, grown man Stefano Gabbana commented "È proprio brutta" (basically, "she's so ugly" in Italian). Diet Prada spotted the comment and posted an incriminating screenshot of it on their Instagram stories with the caption, "Omfg #pleasesaysorrytoselena." He did not.
Fast forward to last night: After sitting front-row at Coach's spring 2019 runway show, Gomez was spotted out in New York wearing a high ponytail accessorized with a bedazzled hair clip that read "UGLY." Considering how cute this pony is, it can be interpreted as nothing other than a possible direct response to Gabbana.
What's truly impressive here is how Gomez succinctly communicated her message without posting anything on the internet (or to her 142 million Instagram followers), a coveted skill she must have picked up during her months-long break from social media. That dutch braid in the middle is pretty impressive, too. Consider Selena's "UGLY" Pony another viable option for celebrity ponytails you could dress up as this Halloween.