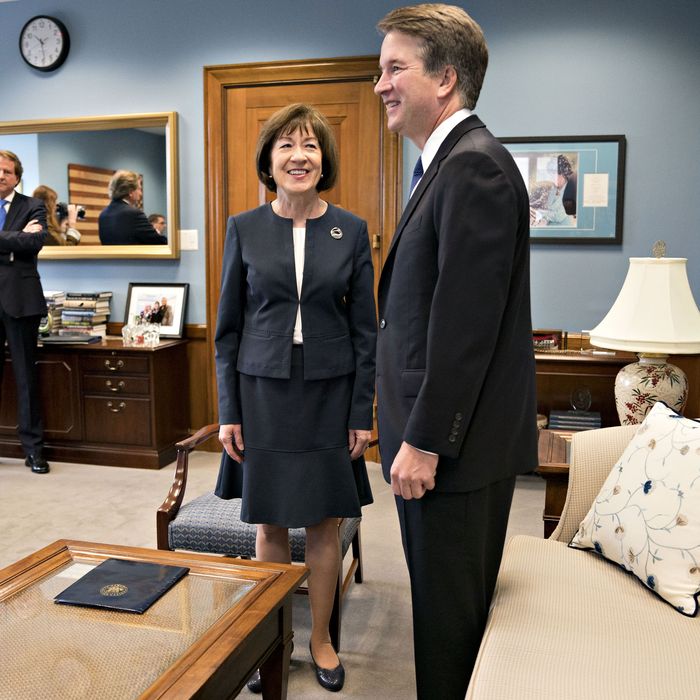 Suddenly, Susan's having second thoughts.
Photo: Andrew Harrer/Bloomberg via Getty Images
On Sunday, clinical psychology professor Christine Blasey Ford publicly accused Brett Kavanaugh of sexually assaulting her at a party when they were both in high school. On Monday afternoon, Senate Republicans announced that the Judiciary Committee will hold a public hearing on Ford's allegation, with both Ford and Kavanaugh set to testify on the matter.
Senate Judiciary Committee Chairman Chuck Grassley set the public hearing for Monday, September 24, postponing a committee vote that had been planned for Thursday. Grassley said this would "give these recent allegations a full airing," adding, "as I said earlier, anyone who comes forward as Dr. Ford has done deserves to be heard."
Just hours earlier, Senate Majority Whip John Cornyn had insisted that no such hearing would take place. Cornyn argued that a "show trial" was precisely what his Democratic colleagues had hoped to engineer by (allegedly) withholding information about the allegation until the last minute. "I think it would be a mistake to reward bad behavior," the Texas senator told CNN.
But Susan Collins thought otherwise. Early Monday afternoon, the Maine Republican tweeted, "Professor Ford and Judge Kavanaugh should both testify under oath before the Judiciary Committee." Hours later, the senator decided to clarify the stakes of her suggestion. "I believe in order for me to assess the credibility of these allegations, that I want to have both individuals to come before the Senate Judiciary Committee and testify under oath," she told reporters. Collins went on to say that Kavanaugh had assured her on Friday that the allegations were false — and that if he is found to have lied about that subject, she would consider that "disqualifying."
The GOP has a mere two-vote margin in the upper chamber. If every Democrat toes the party line — and the Senate's two pro-choice Republican women decline to actively abet the erosion of reproductive rights in the United States — then Trump's Supreme Court nominee will go down. Kavanaugh was already a historically unpopular Supreme Court nominee before Ford's allegation ever came to light. With an accusation of attempted rape on the record, red-state Democrats shouldn't have a hard time withholding their support. Which means that Kavanaugh's fate lies in the hands of Susan Collins and Lisa Murkowski. So, it surely isn't a coincidence that the GOP leadership changed its tune on a public hearing as soon as Collins made her position clear.
This post has been updated to include the scheduled date for Ford and Kavanaugh's hearing.