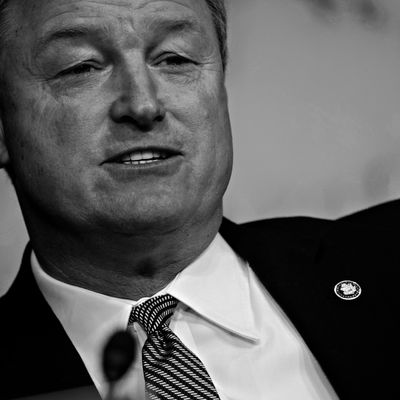 Senator Dean Heller.
Photo: Andrew Harrer/Bloomberg via Getty Images
Republican Senator Dean Heller believes that Supreme Court nominee Brett Kavanaugh is going to be confirmed — despite an allegation of sexual assault made by a woman named Christine Blasey Ford. On Wednesday, Senator Heller reportedly called the allegation a "little hiccup."
The Nevada Independent reported that during a call organized by the Nevada Republican Party, Senator Heller was certain that the confirmation of Kavanaugh would move forward.
"We got a little hiccup here with the Kavanaugh nomination," he said. "We'll get through this and we'll get off to the races."
Senator Heller is running for reelection in Nevada against Democratic Representative Jacky Rosen. President Donald Trump has fundraised and campaigned for Heller.
Heller is on the record as saying that he has "no reservations" about confirming Kavanaugh. He believes the judge is "an exceptionally qualified nominee."
Kavanaugh has repeatedly denied the allegation made by Ford.
Ford was invited by the Senate Judiciary Committee to testify in a public hearing regarding her accusations, but declined until an investigation by the FBI could be conducted. She was given until September 21 to make her final decision regarding testifying. Since she has publicly come forward with an allegation of sexual assault against Kavanaugh, Ford has been sent death threats and was forced to flee her home.