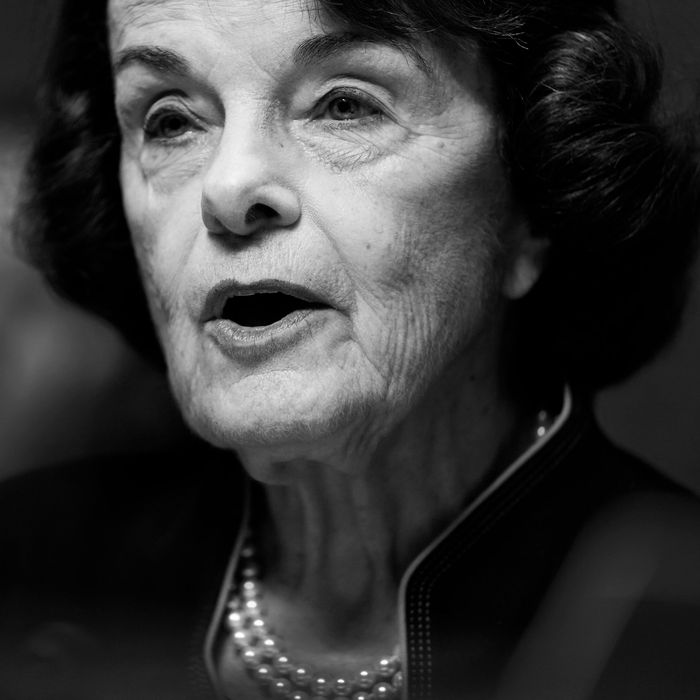 Senator Dianne Feinstein.
Photo: Pool/Getty Images
At Thursday's Senate hearing, where Christine Blasey Ford and Brett Kavanaugh are testifying in regard to Ford's accusation that he had sexually assaulted her in high school, Senator Dianne Feinstein — who had received Ford's initial letter detailing the sexual-assault claims — delivered a powerful opening speech. "Our institutions have not progressed in how they treat women who come forward," she said. "In essence they are put on trial and forced to defend themselves."
Describing the letter she received from Ford, Feinstein emphasized the need for lawmakers to take women's experiences of sexual assault seriously. "What I find most inexcusable is this rush to judgment, the unwillingness to take these kinds of allegations at face value and look at them for what they are," she said. "A real question of character for someone who is asking for a lifetime appointment."
"Sixty-percent of sexual assaults go unreported. [And] when survivors do report their assaults, it's often years later due to the trauma they've suffered and fearing their stories will not be believed," Feinstein said.
She also referenced the two other public allegations of sexual assault toward Kavanaugh, by Deborah Ramirez and Julie Swetnick. Senator Chuck Grassley, the chairman of the Senate Judiciary Committee, responded that the hearing is specifically in reference to Ford's allegation, dismissing the other existing claims.
As Ford continues to be questioned, Feinstein's words will ring in the back of the courtroom.