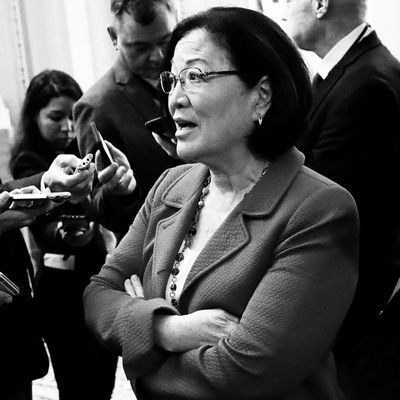 Senator Mazie Hirono.
Photo: Pablo Martinez Monsivais/AP/REX/
Mazie Hirono, the junior senator from Hawaii, has made a name for herself as a giver of no fucks. As a member of the Senate Judiciary Committee, the 70-year-old has asked each and every nominee (including Donald Trump's Supreme Court pick Brett Kavanaugh) that has come before her — under oath — whether they've ever committed sexual harassment.
Lately, Hirono has also been calling "bullshit" on men: saying they need to "shut up and step up" about sexual abuse and accusing the committee's Republican members of "extend[ing] a finger" to Christine Blasey Ford, the Palo Alto University professor who has accused Kavanaugh of sexual assault. In fact, Hirono has been saying "bullshit" so often, we're starting to think it's her favorite word (or at the very least, the only adequate way to describe the current state of the world).
Here, a running list of every time she's publicly said "bullshit" lately.
On asking nominees whether they've committed sexual harassment or been penalized for it (the Cut):
"Any time there's a power situation, these kinds of behaviors can occur, and I just want to make sure that this does not get swept under the rug. Since time immemorial we women have been having to put up with this bullshit."
On how the Republican committee members are handling Ford's allegation — and chairperson Chuck Grassley's claim that they've done "everything" they could to contact Ford (ABC News):
"We're not consulted at all. I would like us to come together and figure out what is the best way to proceed. Not this seat-of-the-pants stuff. The latest, being a letter from the chairman to the Democrats saying, 'We have done everything we can to contact her.' That is such bullshit, I can't hardly stand it."
On deciding to run for office (NPR):
She recalls a breakfast in 1994 when the Democratic candidate for governor, Ben Cayetano, tried to talk her out of running for lieutenant governor. He argued that she wouldn't help the ticket. After Cayetano finished, Hirono said she looked him in the eye, "and I said, 'Well, that's all fine and good, but it's all bulls***. And I'm running.'"



We'll update this post as Hirono inevitably continues to use the term.