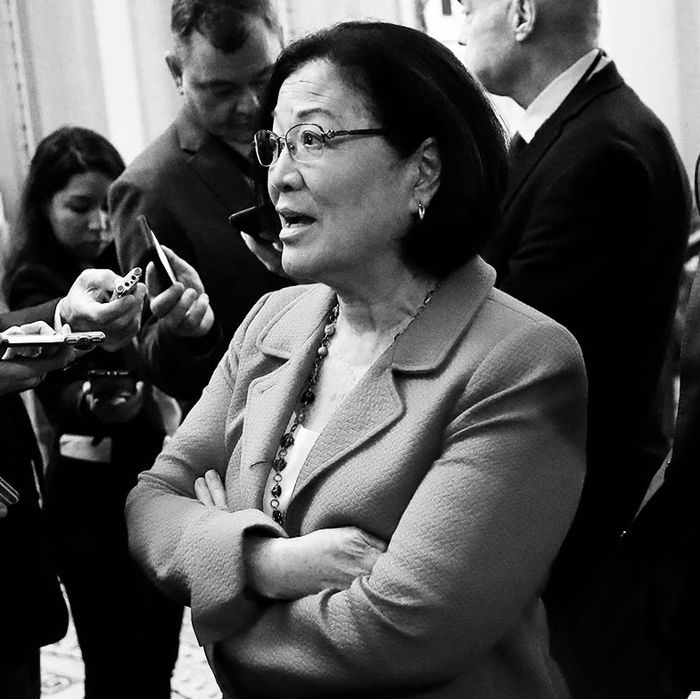 Senator Mazie Hirono.
Photo: Pablo Martinez Monsivais/AP/REX/Shutterstock
As the attacks on the credibility of Christine Blasey Ford continue, and Supreme Court nominee Brett Kavanaugh repeatedly denies the allegations made against him, lawmakers are speaking out. Senator Mazie Hirono, for one, did not mince words. She held men — especially those in government — responsible for the harrowing experience of coming forward with allegations against a powerful man.
"Guess who's perpetuating all of these kinds of actions? It's the men in this country," she said at a press conference. "I just want to say to the men in this country: Just shut up and step up. Do the right thing for a change."
Senators announced this week that there will be a public hearing about Ford's allegations for September 24 — though Ford has not returned requests to testify, which could delay proceedings, if they even happen at all.
"Not only do women like Dr. Ford, who bravely comes forward, need to be heard, but they need to be believed. They need to be believed," Hirono said. "We cannot continue the victimization and the smearing of someone like Dr. Ford."
Hirono is not the only one demanding that Ford be treated fairly. Anita Hill, who testified against Clarence Thomas about his alleged sexual harassment during his Supreme Court confirmation, wrote an op-ed about the Senate Committee's obligation to do better for Ford than they did for her. "Today, the public expects better from our government than we got in 1991," she said.
"We have to create an environment where women can come forward and be heard and be listened to," Hirono said. "I want to thank Dr. Ford. I commend her courage. I believe her."