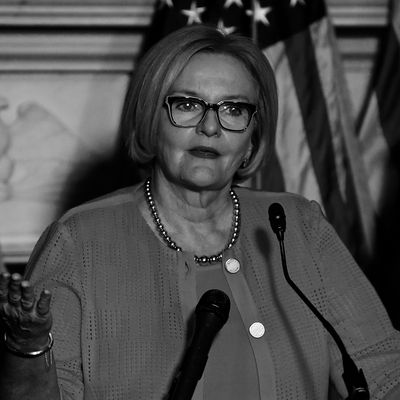 Senator Claire McCaskill.
Photo: Mark Wilson/Getty Images
Democratic Senator Claire McCaskill announced on Wednesday night that she will vote "no" on Judge Brett Kavanaugh. Kavanaugh is President Donald Trump's Supreme Court nominee, who could replace Justice Anthony Kennedy on the bench. Kavanaugh's already controversial nomination was made even more so when a woman named Christine Blasey Ford accused him of sexual assault.
Senator McCaskill shared in a statement posted to Twitter that while the allegations made against Kavanaugh are disturbing and merit a full and thorough investigation, that is not why she is choosing to vote no.
"My decision is not based on these allegations but rather on his positions on several key issues, most importantly the avalanche of dark, anonymous money that is crushing our democracy," she wrote.
She then outlined the dangers of anonymous cash funding campaign platforms and "issue ads" that can "interfere and influence" elections. Kavanaugh previously voted that monitoring or regulating these types of ads is unconstitutional, which Senator McCaskill did not agree with.
"It is his allegiance to the position that unlimited donations and dark anonymous cash, from even foreign interests, should be allowed to swamp the voices of individuals that has been the determining factor in my decision to vote no on his nomination," she concluded.
Senator McCaskill's announcement that she will not vote to confirm Kavanaugh is in line with her Democrat colleagues. At this time, no Senate Democrats have publicly announced that they will vote to confirm Trump's nominee, though five remain undecided.