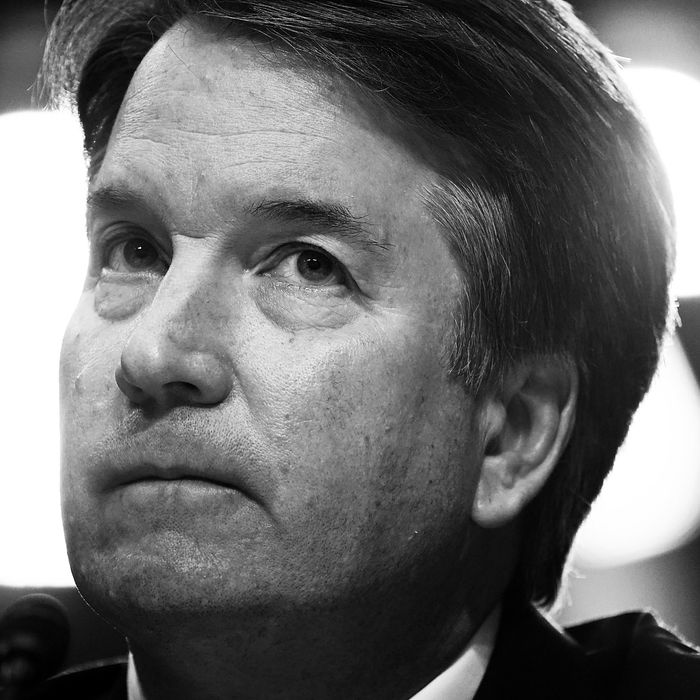 Brett Kavanaugh.
Photo: Alex Wong/Getty Images
In the wake of a new sexual-assault allegation against Supreme Court nominee Brett Kavanaugh by Deborah Ramirez — the second woman to come forward claiming Kavanaugh had assaulted her — Democratic senators are demanding he step down.
Ramirez alleges that Kavanaugh drunkenly assaulted her at a freshman-year dorm party at Yale University, where he exposed himself, thrust his penis in her face, and forced her to touch it despite her efforts to push it away, The New Yorker reported on Sunday. The allegation comes shortly after Christine Blasey Ford agreed to testify before the Senate Thursday, having previously claimed that Kavanaugh — "highly inebriated" — sexually assaulted her at a high-school party in the early 1980s; she alleged that Kavanaugh pinned her down, groped her, tried to remove her clothing, and put his hand over her mouth to muffle her screams — actions that her lawyer considers attempted rape.
Kavanaugh denied Ramirez's allegation as it was reported in The New Yorker, calling it a "smear campaign" by the Democrats. He also denied Ford's claims, saying, "I have never done anything like what the accuser describes — to her or to anyone … I am willing to talk to the Senate Judiciary Committee in any way the committee deems appropriate to refute this false allegation, from 36 years ago, and defend my integrity." The White House also echoed his most recent statement from Sunday, with spokeswoman Kerri Kupec saying, "This 35-year-old, uncorroborated claim is the latest in a coordinated smear campaign by the Democrats designed to tear down a good man … The White House stands firmly behind Judge Kavanaugh."
Senator Dianne Feinstein, the top Democrat on the Judiciary Committee and the initial recipient of Ford's letter accusing Kavanaugh of assault, said the committee chairman, Republican Chuck Grassley, should cancel Thursday's hearing in light of the new allegation. In an open letter to Grassley, she called for an "immediate postponement" of any further actions for the judge, with a full FBI investigation. She wrote, "It is time to set politics aside. We must ensure that a thorough and fair investigation is conducted before moving forward."
Feinstein isn't the only senator urging to halt Kavanugh's nomination process after the second allegation. Here are the others who have spoken out so far:
This post will be updated as more information becomes available, ahead of Thursday's confirmation hearing.