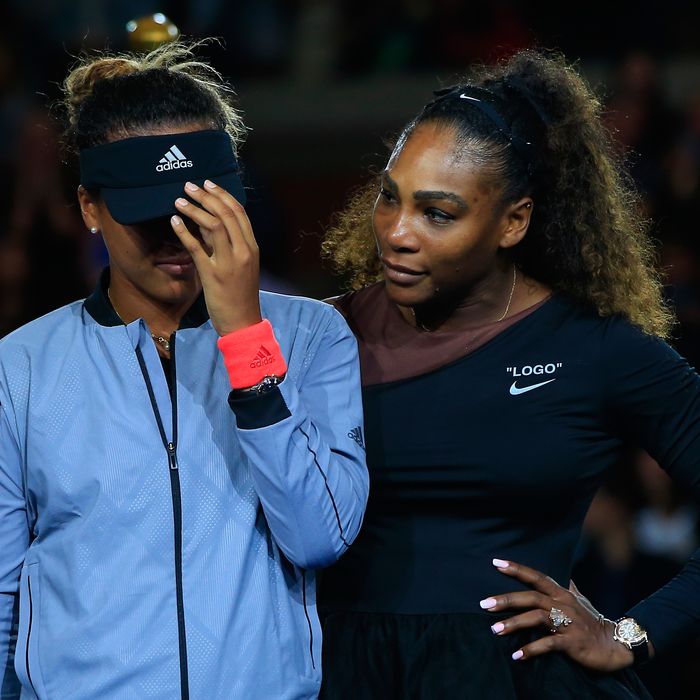 Naomi Osaka and Serena Williams.
Photo: Chris Trotman/Getty Images for USTA
On Saturday night, Naomi Osaka won the U.S. Open, becoming the first Japanese woman to win a Grand Slam singles title. But her victory was overshadowed by an officiating controversy, which left her in tears as she accepted the trophy, standing beside her idol Serena Williams.
Earlier in the night, Williams received a coaching violation from chair umpire Carlos Ramos, after her coach, Patrick Mouratoglou, made a gesture to her from the stands. Williams refuted the call. "I don't cheat to win," she said emphatically. "I'd rather lose."
A few games later, Williams broke her racket, garnering her a second code violation, as well as a point penalty — meaning Osaka started the next game at 15-0. This prompted Williams to call Ramos a "thief" and demand an apology. "There are men out here that do a lot worse, but because I'm a woman, because I'm a woman you're going to take this away from me?" she said, according to the New York Times. "That is not right." This resulted in a third code violation.
Osaka ultimately won the match, 6-4, and during the ceremony, the audience booed loudly. Both Osaka and Williams held back tears, and Williams put an arm around Osaka to comfort her. "I'm sorry. I know that everyone was cheering for her, and I'm sorry that it had to end like this," Osaka told the crowd. "I just want to say thank you for watching the match. Thank you."
"Let's make this the best moment we can and we'll get through it," Williams said. "But let's give everyone the credit where credit's due and let's not boo anymore. We just — we're going to get through this and let's be positive. So congratulations, Naomi. No more booing!"