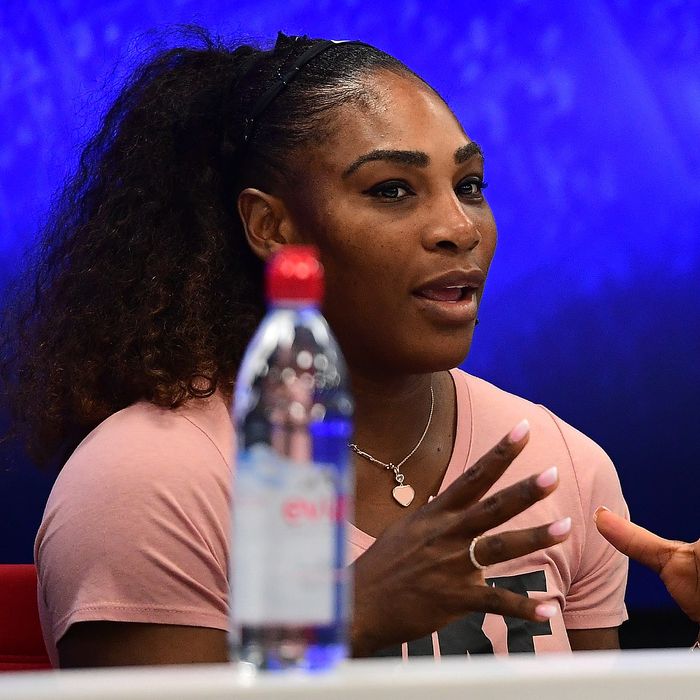 Serena Williams at press conference.
Photo: Sarah Stier/Getty Images
The 50th U.S. Open did not end the way anyone expected it to: Serena Williams lost after an umpire accused her of cheating and stuck her with a number of penalties, include the loss of an entire game. The outcome was so upsetting that competitor Naomi Osaka accepted her trophy in tears.
During the match, a frustrated Williams lashed out at the umpire, Carlos Ramos, saying she would never cheat and demanding an apology. She later called him a thief for stealing a point from her — prompting him to give her yet another code violation.
In the post-game press conference, Serena Williams was asked if she could go back in time, what would she do differently?
"I don't know. You definitely can't go back in time, but I can't sit here and say I wouldn't say he's a thief, because I thought he took a game from me," she explained. "I've seen other men call other umpires several things. And I'm here fighting for women's rights and for women's equality … For me to say 'thief' and for him to take a game? It made me feel like it was a sexist remark. He's never took a game from a man 'cause they said 'thief.' For me, it blows my mind. But I'm going to continue to fight for women and to fight for us to have equal — like, Cornet should be able to take her shirt off without getting a fine. Like, this is outrageous."
In this last point, she was referring to Alizé Cornet, a French player who was recently given a warning for briefly taking off her shirt during a break, after realizing she had put it on backwards. (The U.S. Open later apologized for this.)
"I just feel like the fact that I have to go through this is just an example for the next person that has emotions and that wants to express themselves, and they want to be a strong woman, and they're going to be allowed to do that because of today," Williams said. "Maybe it didn't work out for me, but it's going to work out for the next person."