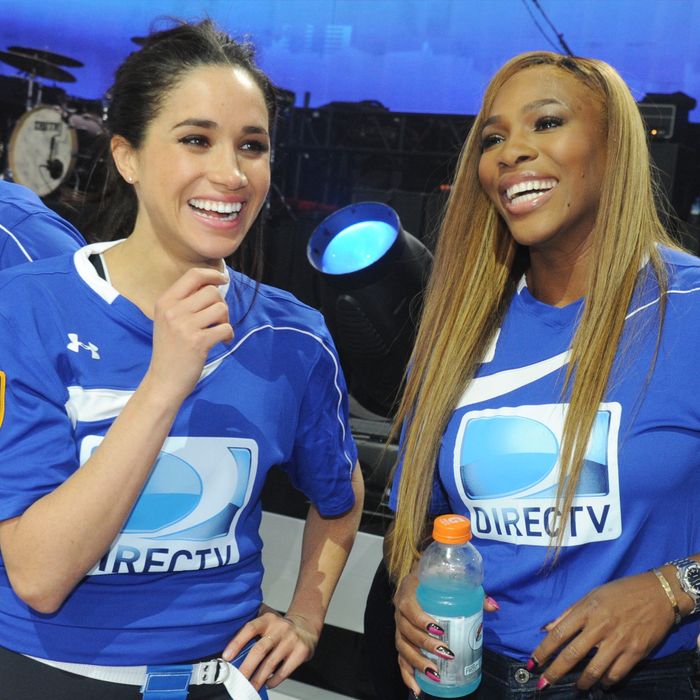 Meghan Markle and Serena Williams.
Photo: Kevin Mazur/Getty Images for DirecTV
Serena Williams revealed in a new interview with The Sunday Project that after the U.S. Open and the controversy that followed, she texted Meghan Markle, whom she says she has grown closer to recently.
"We have known each other for a long time, but we really kind of are relying on each other quite a lot recently," Serena said about her friendship with Meghan. She explained that their shared experience of "media scrutiny" caused their friendship to strengthen.
Meghan and Serena have been friends since 2010. This summer, they attended a Royal polo match together, and earlier this year Serena attended Meghan's royal wedding to Prince Harry. Serena called the moment "historical." Meghan has also come out to support Serena at her tennis matches, even attending one of her Wimbledon games in June with Kate Middleton.
The interview with Lisa Wilkinson also covered other aspects of the U.S. Open, like the fact that her coach said in a later interview that he had coached her from the sidelines.
"I just don't understand what he was talking about," Serena said. "We don't have signals, we've never had signals. He said he made a motion, so I was like, 'Okay, you made a motion and now you're telling people you were coaching me? That doesn't make sense, why would you say that?'"
It's good to know that for all the issues Serena faces being one of the greatest athletes of all time, she has a solid support system of people in her life who get it — and one of them just happens to be royalty.