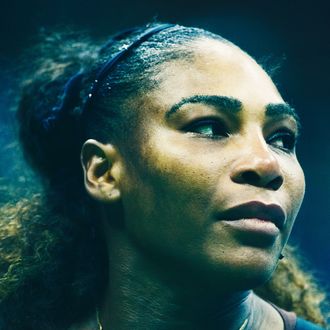 Serena Williams.
Photo: Tim Clayton - Corbis/Corbis via Getty Images
As backlash mounts over an umpire's sexist treatment of Serena Williams at the U.S. Open final — a match that she eventually lost after being penalized three times, including for a coaching violation she wholeheartedly disputed — tennis umpires are reportedly considering refusing to officiate her matches.
In Saturday's U.S. Open final, chair umpire Carlos Ramos issued three code violations to Williams, including one for verbal abuse after she called him a "thief," which cost her a full game; she went on to lose to Japan's Naomi Osaka. Williams and other star players, as well as fans, have criticized Ramos's calls as sexist, noting that male players have subjected umpires to far worse without penalty.
Now, umpires are reportedly pushing back. In an interview with The Times of London, an anonymous source revealed that before the U.S. Open even started, chair umpires were unhappy with the event's disorganization; when Williams accused Ramos of making sexist calls, they became increasingly angry. As a result, per the source, umpires are thinking about refusing to officiate any matches involving Williams.
The Guardian reports, similarly, that tennis' top umpires are considering forming a union in the wake of the Williams backlash, as they were disappointed that the Women's Tennis Association and the United States Tennis Association were quick to side with Williams, and that it took the International Tennis Federation nearly two days to vocalize its support for Ramos. As one senior figure put it, umpires felt that Ramos was "hung out to dry."
"There is a lot of unhappiness in the umpiring community because no one is standing up for officials," the source told The Guardian. "Umpires keep asking: 'What if it was me in that chair on Saturday?' There is a widespread feeling that Carlos was hung out to dry for nearly 48 hours and that no one is standing up for officials."
On Monday, after the ITF defended Ramos's calls, the umpire himself made his first public comment as well, saying, "It's an unhappy situation but à la carte refereeing doesn't exist."
According to Fast Company, tennis stars Novak Djokovic and Andy Murray have called Ramos "crap" and "stupid" respectively, and Rafael Nadal threatened Ramos in 2016. None were docked a point or a game for it.