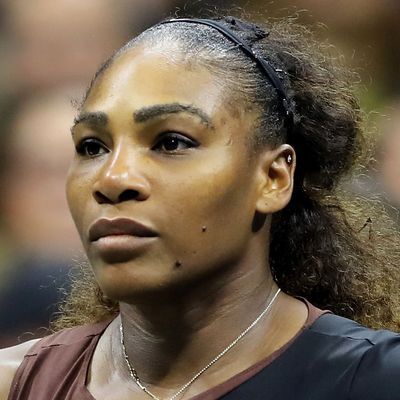 Serena Williams.
Photo: Elsa/Getty Images
Serena Williams received three code violations during the U.S. Open final on Saturday evening — an officiating controversy that has been decried as sexist and unfair. On Sunday, it was revealed that Williams will now literally have to pay for what happened during her devastating Grand Slam loss: She has been fined $17,000.
During her Saturday final against Japan's Naomi Osaka, Williams was hit with three violations by chair umpire Carlos Ramos. Williams received a warning for "coaching" (which Ramos claimed happened via a hand signal from her coach in the stands — a call so mystifying that the tennis player told Ramos, "I don't cheat to win; I'd rather lose"). She was later penalized for breaking her racket in anger. Lastly, Williams was accused of "verbal abuse" toward Ramos, after she stood up for herself and called him a "thief."
The Associated Press reports that the tournament's referee has fined Williams $10,000 for "verbal abuse" against Ramos, $4,000 for the coaching warning, and $3,000 for her racket. The money will reportedly be docked from the $1.85 million prize money Williams won as the runner-up during the final.
Before the announcement of the fines, Williams opened up about the violations during a Saturday night post-match press conference. The tennis player said, "I've seen other men call other umpires several things. And I'm here fighting for women's rights and for women's equality … For me to say 'thief' and for him to take a game? It made me feel like it was a sexist remark. He's never took a game from a man 'cause they said 'thief.' For me, it blows my mind."