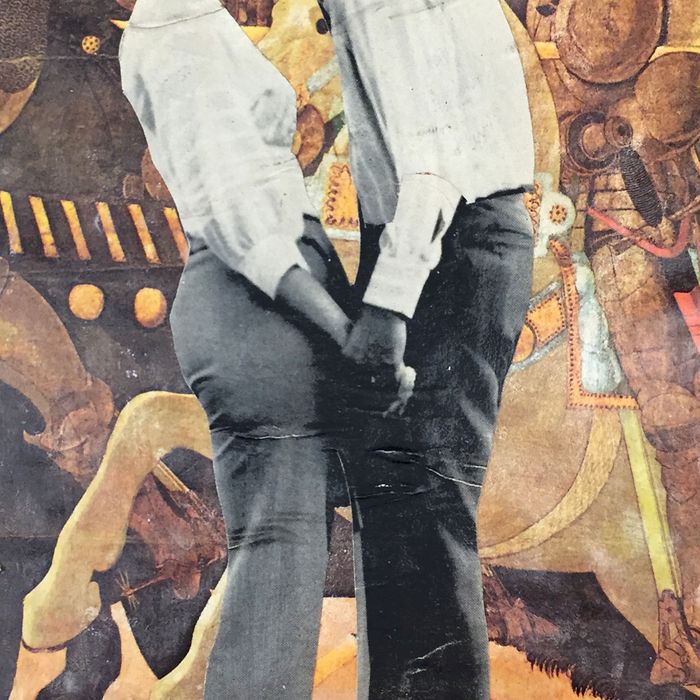 This week, a production assistant waiting for a biopsy result and trying to keep things casual with the man she's seeing: single, 27, Flatbush.
Day One
9:30 a.m. Heading to the farmer's market, my weekend tradition. This time, my haul is lots of corn, long beans, and tomatoes.
Noon D and I are texting each other recipe ideas, since we're cooking dinner together tomorrow night. D is 31 and an adjunct professor. We met two months ago on OkCupid and for some reason, he still wants to see me.
Here's why that surprises me: In May, two days before our one-year anniversary, my boyfriend, A, dumped me. It was unexpected and brutal. In an attempt to prevent myself from falling completely into a pit of despair, I set a goal: One month to grieve, and then I had to suck it up and go on a successful date (the criteria for success was not crying about A while on said date).
Plus, I have HPV. Here's a PSA: You can get HPV even with a Gardasil vaccine and diligent condom use (it can be transmitted skin to skin). I found out I had HPV in January, and told A right away. There's no way to test men, so I can't know for sure if he has it, and neither can he.
In the span of six months, my HPV progressed from "nothing to worry about" to "something to be incredibly concerned about," despite the fact that my strain is not considered to be one of the higher-risk HPVs. Thank God for regular pap smears. I had to have a LEEP done, a biopsy of my cervix with an electrical current to look for signs of cancer. After a LEEP you can't insert anything into your vagina for eight weeks. Which normally wouldn't have been a problem …
Except, just days before the LEEP, I went on my first date with D, who is smart, funny, and cute as a button. I manage to not only stay dry-eyed but also charm him. We ended up making out back at his place, and right as things were about to get a little more in depth, I stopped and gave him the low-down.
He sat quietly for a few minutes after this information explosion and finally said, "I'm sorry that you're having to go through all of this. But I would still like to have sex with you, if you're okay with that." How could I say no to that?
So D and I had incredible, very protected sex seven weeks ago, and even though I expected him to be a one-night stand, we've seen each other once or twice a week since then. We've discovered every potential way to get each off without direct genital contact. We're like very horny, creative Catholic school students.
Where was I? Oh right. After exchanging texts with D, I grind hard against my trusty old vibrator and come almost instantly. Then I take a nap.
6:45 p.m. My friend and former co-worker H and I meet for drinks in Tribeca. We order a dozen oysters and a couple of beers. Turns out his LTR ended around the same time mine did, so we spend the next three hours pouring our hearts out to each other.
9:30 p.m. We're both feeling tired (venting is exhausting), so we say good night early and head our separate ways. I text him later that I promise our next meeting won't be so mopey, but he replies that he didn't mind at all. It's nice to be able to rekindle this friendship.
Day Two
7:30 a.m. I really need blackout curtains. I should not be up this early.
10 a.m. I've got time before meeting D today, so I try to get as many chores done as possible. Do laundry, clean the bathroom, meal prep — you name it.
4 p.m. Quick stop by Babeland to pick up some Dental Dams. It's the only way I'll let D go down on me right now. The mint dams are my favorite, since you can really feel a tingling sensation.
7 p.m. We're cooking in D's kitchen, making ratatouille from my farmer's market haul. It's hot as hell, and the AC feels like it's barely working. He says, "You know, you could just cook naked, if you wanted to. I wouldn't mind." Yeah, with those giant street-facing bay windows and L, his roommate, due home any minute?
10:30 p.m. Just as we're finishing up, L and her friends start their own late-night dinner party, so there's lots of activity in the kitchen. We retreat into D's room.
11 p.m. I am blindfolded with one of D's ties. As he rubs my clit, he tells me to open my mouth and "Keep it open." The angle makes it so that I can't get much of him in my mouth, but it sounds like he's enjoying himself …
11:10 p.m. Dental dam is in place. God, he's good at this. I fantasize about this barrier being gone and riding his face, something that wouldn't work logistically with the dams. It's the first position I ever received oral in, and it's still the position that turns me on most. I picture him under me, wrapping his arms around my thighs to anchor me…
Shit. It is very, very hard for me to keep quiet.
11:20 p.m. Blindfold and dam removed. I immediately straddle him and whisper, "I want you to feel how wet I am," which gets the reaction I'm hoping for. I continue to grind against him like that, but no matter how much I want it, I cannot let him enter me.
Midnight D asks me to stay the night, but I take a Lyft home instead. I know I should be keeping this thing with D casual, and sleeping next to someone feels too intimate for me right now.
Day Three
9:30 a.m. On the subway to work, a man asks how my morning's going. I respond with a cheerful, "Not bad for a Monday!" He then proceeds to tell me how lonely he is and how all he wants is a woman he can "lick from head to toe." Yikes.
3 p.m. I check my email and there's a message from my Gyno. My original LEEP results were borderline, so I had the samples sent out for a second opinion. She says that the report came back from their lab and they've concluded it's not cancer. I take a few minutes to cry in the bathroom, and then head back to my desk.
4 p.m. I text my parents and D the results. And then I text my ex, too. We've kept in basic contact since the breakup so he knows about the LEEP. I don't expect a response from him — he's a notoriously bad texter. Even back in the days when he loved me he'd take hours, if not a full day, to reply. But he was the most important person in my life for the past year — it feels weird not to share this with him.
4:05 p.m. I get a text back from D within a few minutes: "That's fantastic news. How are you feeling?" Trying to reply to this now would open up the floodgates. I'll reply once I leave work.
6 p.m. I text him back that I'm emotional, but handling it.
7 p.m. Just hanging around the house. Bumble notifies me that "Activity is up 23%" Oh joy! Time to get swiping!
10:15 p.m. Nope, I'm done. I don't know why I still have apps like Bumble and Tinder on my phone.
Day Four
11 a.m. I get a reply on OkCupid from someone I'll call J; he's 30 and works in publishing. Will check it later.
6:20 p.m. I'm finally leaving work, so I check my message from J. He asks what I'm doing Thursday night. I'm free, so we make some after-work drink plans. I haven't gone on any other dates since I met D, but I'm making an effort to meet other people. And I know he's gone on a few first dates since we met, though he hasn't seen any of them again or had sex with anyone else since we met.
10:30 p.m. I must get sleep tonight. New plan: I'll put my phone on airplane mode and charge it far from my bed.
Day Five
8:30 a.m. It worked! I slept! When I turn airplane mode off I am rewarded with a text from D asking if I want to see a movie with him at BAM on Friday night. Why yes, yes I would.
10 a.m. Heading to Soho to help my boss with a commercial shoot.
2 p.m. The camera-guy and I head off in search of lunch for the crew. I'm not sure if he's hitting on me or just overly friendly. He's also significantly older than me — and fairly handsome. He asks me when I moved to New York and I tell him it was right after college, in 2013. He sheepishly tells me that he also moved here after college, but that was in 1990.
5 p.m. Heading back to the office to drop off some equipment. Camera-guy has his own van and asks if I want a ride, but I pass on the offer.
6:15 p.m. Leaving work and going to an outlet on Fulton Street. I hate shopping with a passion, but need to find an outfit to wear for a fancy work event coming up. A few months ago, the combination of work/breakup stress and a wicked summer flu meant I dropped 12 pounds in two weeks. Which, I should clarify, isn't something I'm thrilled about at all. Friends keep telling me how great I look now and it makes me furious. Bitch, I was only 138 before!
7:30 p.m. Am about to head into the train when a jumpsuit in the window of American Eagle catches my eye. Normally I'd avoid AE, as it conjures up memories of preppy middle-school girls that I wasn't cool enough to hang out with, but I do wear a lot of Aerie underwear now. I head inside.
7:50 p.m. I leave the store with a beautiful floral jumpsuit in hand. I feel chic and, dare I say, grown-up.
10 p.m. Browsing OkCupid again. I see that D is also online, and I wonder if I should send him a message as a joke. Probably that's too weird.
10:30 p.m. Netflix, this time old episodes of Great British Bake Off. Man, is that a great show.
11:30 p.m. Airplane mode and another attempt at a good night's sleep.
Day Six
10 a.m. My boss is going out of town on a shoot for the next few days, which means I'm the only one in the office. Looks like I can take my sweet time getting coffee this morning.
Noon And my sweet time getting lunch.
2 p.m. Boss calls me to ask how things are going at the office. He asks me to upload some rough cuts to Vimeo for a potential producer, so at least I'm doing something productive today.
5 p.m. I decide to go back home so I can shower before this date.
7:30 p.m. Waiting for J at the bar. I text my best friend M his number, "You know, in case I get murdered."
7:45 p.m. I feel bad about this, but I already know that I'm not into him. He's very nice and good looking! But it feels more like a job interview than a date. I talk a lot (I know, shocker) and I want someone who can hold their own against me. I keep trying to ask him questions, but he answers in very short sentences.
9 p.m. I tell J that I unfortunately have to head out, since I have an early morning tomorrow. Like, SUPER early. He seems to buy it, and says we should hang out again sometime. Before I have time to stop myself, I say "Definitely! See you soon!"
10 p.m. A text from J already! He says he had a nice time and would like to see me again soon. I text him back saying that while I had a nice time, but that I felt more of a friendly chemistry than a romantic one. Then I put my phone on airplane mode so I won't constantly check to see if he responded.
Day Seven
8:30 a.m. I wake up at my usual time, only to remember I'm "working from home," which basically just means checking my email to make sure nothing urgent needs my attention. In the meantime, I'll snooze a bit longer.
10 a.m. Text D again to confirm our plans, and ask if he wants to come over for lunch beforehand. He says he'd be happy to come over.
2 p.m. Pasta and a homemade blueberry pie. Ever since discovering GBBO, I try to bake at least once a month. I'd say I'm at least decent at it. For me, baking is the easiest way to impress someone.
4 p.m. Lunch is done and we've got some time to kill before the movie. Naturally, this means making out. I tell him that since it's officially been eight weeks since the LEEP….
4:30 p.m. He goes down on me for the first time without a barrier. It feels unbelievable. He's moaning as he presses his tongue harder against my clit. I'm glad he's as vocal as he is — my ex was really quiet and it made me feel like I was never really satisfying him.
4:40 p.m. D slowly presses one finger inside me. Two fingers now, and honestly I can tell that sex is going to be a little painful.
5 p.m. "Can I put a condom on now?" Yes, please. I get on top and slowly lower myself onto him. It both feels like a momentous occasion and the most natural thing in the world to feel him inside me.
5:30 p.m. I have to stop. As good as it feels, I'm starting to have abdominal cramps and I don't want to push myself into having a cervical tear. I try apologize to D for yet another sexual encounter where he doesn't get to come, but he won't hear of it. He's so nice. The timing for us isn't great, but still — how did I luck into a guy like this?
The only thing that keeps me from spiraling after sex is remembering that I was honest and open with him, and that he's making the choice to be intimate with me, too. Maybe one day either of us will decide that the benefit isn't worth the risk and we'll walk away, but in the meantime, all I can do is try and maintain that balance.
Want to submit a sex diary? Email sexdiaries@nymag.com and tell us a little about yourself.