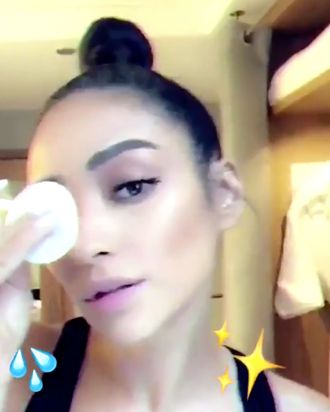 Shay Mitchell.
Photo: Snapchat/Shay Mitchell
There is a wealth of celebrity social-media spon-con out there, some of it okay, some of it terrible, none of it great. Until now.
This weekend, Pretty Little Liars star Shay Mitchell posted a video on Snapchat to promote Bioré cleansing water that can only be described as a genre-defying work of art.
Mitchell has been a #BioréAmbassador for two years now. Here she is, for example, promoting their charcoal pore strips while being all like, "Whoa, I'm so busy taking this selfie thank God I can finally unclog the filthy skin holes on my nose with on-the-go strips instead of having to use a water wheel like in the olden days."
I know what you're thinking: Uh, Madeleine, that's already an amazing post that makes me feel empowered to pursue both my professional and skin-care aspirations at the same time, it can't possibly get any better than that. But it does! And thanks to Twitter user @ohjlizzle, who recorded Mitchell's video this weekend, we can watch her post-modern spon-con masterpiece over and over and over again.
Incredible, right? Let's see it again.
She starts by saying she's "obviously" tried her "fair share of makeup removers" but that these are "by far" her "favorite." Then, when she holds the cleansing water bottle up, label out (smart) and pours some of it onto a cotton pad, she does a sort of "Ooooh ouch" pucker face. (??)
Where Mitchell truly exercises her creativity, though, is in the next segment. After a sharp cut, she holds the cotton pad in front of her eye, strikes a pose, and then performs the motion of wiping it across her eye while holding it approximately ten inches away from her face, before triumphantly presenting the smudged cotton pad to the camera, her glam still entirely intact. Where did the smudge come from? Maybe she put mascara on the pad during the break between takes? Maybe she touched it only to the very tips of her lashes when she brushed it across? Maybe it's all that's left of her enemies? Drawing me in with questions — smart.
Too often, spon-con is too straightforward. It's a picture or video of a celebrity using a product, and saying how much they love it, and encouraging you to buy. Rarely is it confusing, challenging, and disorienting. But that's what makes great art, and that's what Mitchell did in this video, and for that, I applaud her.