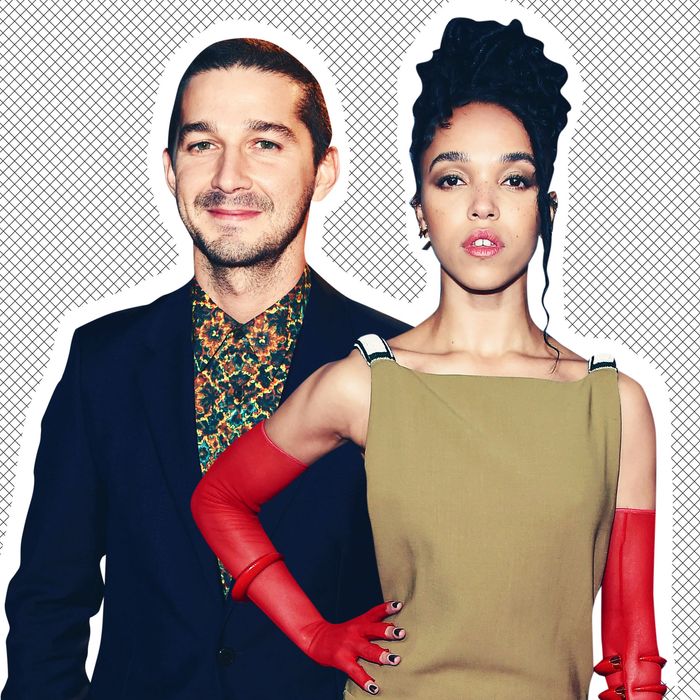 Shia LaBeouf and FKA Twigs.
Photo: Getty Images
I know there is a lot of news happening right now, but please take a moment to consider this: Shia LaBeouf and FKA Twigs are dating.
According to a Daily Mail "EXCLUSIVE," LaBoeuf has split from his wife Mia Goth, with whom he shared a home and a life and a poo-eating French bulldog, and is now dating Tahliah Debrett Barnett, a.k.a. FKA Twigs, a.k.a. the singer and dancer from this Apple commercial, a.k.a. Robert Pattinson's ex-fiancée.
The pair were reportedly spotted leaving Twigs's home in London, and then they returned "chatting as they walked along the street with LaBeouf clutching a Styrofoam cup and a bag of tomatoes."
Twigs reportedly confirmed the relationship to a Daily Mail reporter, who apparently buzzed up to her apartment to ask whether she and LaBeouf are together.
"We're very happy," she said over the intercom. "We're having a nice time."
The "very happy" couple reportedly met on the set of Honey Boy earlier this year, Shia LaBeouf's film about Shia LaBeouf in which he plays Shia LaBeouf's dad (Lucas Hedges plays Shia LaBeouf.)
Here's a picture of LaBeouf and Twigs having a nice time on set.
If you have any further questions about their relationship, please direct them to Twigs's intercom. She will be happy to answer them.