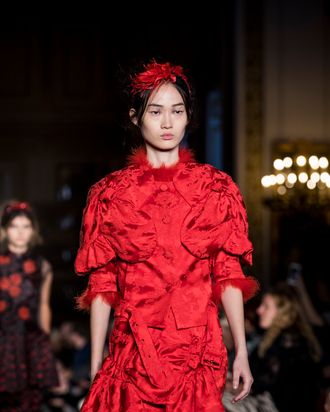 A model walks the runway at the Simone Rocha show.
Photo: Tristan Fewings/BFC/Getty Images for BFC
I think of myself as someone who's in touch with her Chinese roots, but up until recently, I've never felt the urge to wear fashion that references traditional Chinese design. Think of John Galliano's couture creations for Dior, or Yves Saint Laurent's Opium collection — to me they've always felt like something that belongs in a museum, not something a modern Asian woman like me would actually wear.
Thankfully, all of that is changing, as young Asian designers are starting to show collections that reference their heritage in heartfelt, not-at-all-costume-y ways. The most recent designer to do so was Alexander Wang, whose June collection nodded toward his Chinese-American heritage, remixing cheongsams and fortune symbols with his rock-and-roll sensibilities in a way that suited his model-off-duty customer. Simone Rocha took a different route this weekend in London, drawing from her unique Irish-Chinese background for her spring 2019 runway show — with equal success.
The invitation served as the first clue that the designer would be acknowledging the Hong Kong roots of her father, John Rocha. The color archival image featured crowds of Hong Kong residents winding up a road, the country's signature high-rise building and mountains in the distance. The show notes were a cryptic poem, as they often are at Rocha shows. They read:
Paper suits, Sunday Best

Wallpaper brocade, Brocade flower, paper foil




Qing Ming, Team Ming, Ming Thing.

Shorts and skirts. Short skirts




18 Century Chinese Ladies interpretations.

Wiggle flowers, lace flowers, hat towers.




Tulle trapped balls.
These lines of verse actually captured the show's spirit beautifully. Rocha is known for embroidery, brocade suiting, delicate tulle, and puffy-sleeved dresses, but this time, she also folded in aspects unique to her Chinese heritage. A silky red dress with a mandarin collar looked like a contemporary, avant-garde take on the cheongsam. And a series of dresses featured paintings of Ming Dynasty-era women printed across the bodice. What really struck the audience, though, was her use of headwear. Looks were paired with dramatic embellished beekeeper veils that also closely resembled traditional Chinese wedding veils — surefire editorial catnip.
Pop culture's push toward diversity (as well as the desire to expand businesses into Asian markets) has led to a groundbreaking August, and it seems like the momentum is going strong well into fashion month. Seeing designers create beautiful items that proudly acknowledge their heritage is exciting. Even more exciting? The thought of actually wearing these cool new designs.
See the entire collection below.