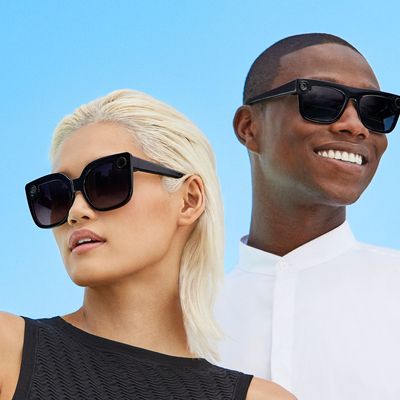 Photo: Courtesy of Snap Inc
It's not a good look to constantly be pulling out your phone, especially when you're outside. Now, the creators of Snapchat have made it easy (and stylish) to take photos and video hands-free, with no one the wiser.
This week, Snap Inc. revealed its "fashion first" Spectacles camera line, which includes two new styles of polarized sunglasses that have lenses hidden in their black frames. In addition to their sleek shape, the Spectacles are water-resistant, have a strong enough battery to capture a day's worth of videos, and can record high-quality audio as well.
Accessories like these were practically made for New York Fashion Week, which not-coincidentally kicked off on the same day as the launch. If you're someone like Anna Wintour, say, you can now sit through an entire fashion show with your Spectacles on, capture it on camera, and upload instantly to social media in the blink of an eye. Instead of your followers having to scroll through blurry runway videos, they can see exactly what you see. Who needs a front-row ticket?
Besides smartwatches and maybe AirPod headphones, wearable tech has yet to crack the code for mainstream success. But Snap Inc. might have the answer: just make it good-looking.
The Spectacles 2 Nico and Veronica are available now at Spectacles.com for $199, as well as at Neiman Marcus and Nordstrom this fall.