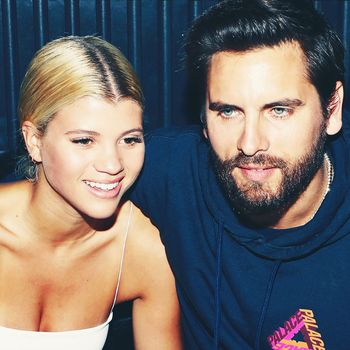 Sofia Richie and Scott Disick.
Photo: Alexander Tamargo/Getty Images for Sugar Factory
Father of three Scott Disick, 35, has been dating recent non-teen Sofia Richie, 20, for over a year, and that's their choice. The pair have had their share of ups and downs, briefly separating after Disick was spotted getting handsy with a "dirty blonde" at Kanye West's Ye listening party in Wyoming back in June. But he and Richie, who cannot legally drink yet, reconciled and according to her, they are "very lovey dovey."
The Sydney Morning Herald's The Goss said they were "a little hesitant" when they were offered an interview with the model, because she was depicted as "difficult, demanding and frankly, a bit of a spoiled brat" by Australian media following the leak of emails from her reps which said Richie refused to answer questions about her Kardashian-adjacent boyfriend, or her father, singer Lionel Richie.
The Goss also said their "hearts sank" when they met her at the "Intercontinental Double Bay with her six minders (including a bodyguard) on Friday," but that she was "professional, friendly, funny, and open" about her father and Disick, also a father.
"We are very happy, very lovey dovey," she told the tabloid. "We are best friends and that is mainly the strongest connection we have. We have always had that best friend connection and from there it has really worked out. I am so happy."
It's good to know things are "back to normal" for them.