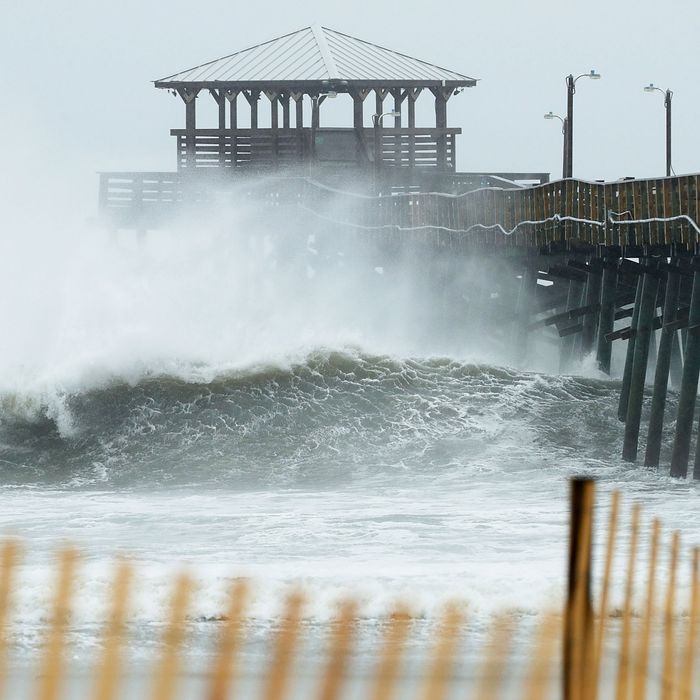 Hurricane Florence.
Photo: Chip Somodevilla/Getty Images
Hurricane Florence, a Category 1 storm that is currently flooding the Carolinas, has caused widespread power outages and evacuations as it continues to barrel up the Atlantic coast. South Carolina resident Christine Meinhold, who lives with seven rescue dogs just outside Myrtle Beach, saw no way out.
"I really don't have the resources to evacuate with seven dogs," she told CNN in a report from Wednesday. "When I rescued these dogs, I took on a responsibility of loving and caring for them the rest of their lives." She said her car has around 205,000 miles on it, and she couldn't stand to risk it breaking down. Though Meinhold's family lives in Tennessee, she planned to stay put.
Her story resonated with strangers, who lent words of support on social media and began a crowdfunding campaign to help her evacuate. Thanks to their fundraising, Meinhold has now set out in a rented U-Haul van to safely escape with her dogs to Tennessee.
The organizer of the campaign, Palms Springs–based radio host Kate Zenna, had rescued dogs from Hurricane Katrina, and said she "wasn't able to let all those dogs perish. I went to rescue dogs alone after Katrina and what I saw will never be forgotten. And now I am living with a lot of dogs and always have a plan."
With two rescue dogs from 2016's Hurricane Matthew, Meinhold was all too familiar with the situation. After they had been pulled from the water, she saw that "one was so skinny, you can imagine my surprise when I got her home and she had six puppies. Didn't know she was pregnant, she was so skinny. I found rescue for all six puppies."
Zenna said the campaign was the result of 16 donors from across the country, who all coordinated via Facebook Messenger. When they pooled their funds, they were able to rent a U-Haul van with air-conditioning and plenty of space for the dogs. One woman shared pictures from Meinhold's truck on Facebook, writing, "What a group of humankind that found their way to each other..One dark and stormy night…15 amazing, kind, compassionate humans came together to make This Happen…
Crying tears of joy for this woman…"