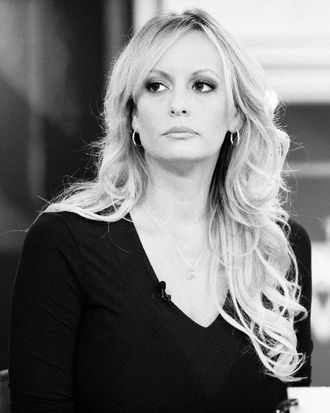 The next big blockbuster Trump-related book is from Stormy Daniels.
Photo: Lorenzo Bevilaqua/ABC via Getty Images
It's not going to be a surprise, but it is due to land in October like a late tropical storm, and could affect the midterm elections. The New York Times has the story about a certain former porn star's tale of her life, and her relationship with the president:
The latest and perhaps juiciest Trump tell-all to land this year isn't from a disgruntled former White House staffer or a deeply sourced investigative journalist. It's by Stephanie Clifford, better known as Stormy Daniels, the pornographic film star and unlikely feminist resistance hero, who has waged a legal battle over a nondisclosure agreement designed to prevent her from talking about a sexual relationship she claims she had with Donald Trump.




On Wednesday, St. Martin's Press announced that it will publish Ms. Clifford's memoir, "Full Disclosure," (pun likely intended) this October, just before the midterm elections.
Politico reports that the actual publication date for the book is October 2.
This certainly isn't a development the president and his supporters will welcome so soon after weathering fallout from Bob Woodward's book Fear, a red-hot best-selling account of life in the White House. As the Times notes, Daniels's book will intensify the heat:
"Full Disclosure" could inflict further damage, and is likely to put the White House on edge. The publication will bring Ms. Clifford's story back into the headlines, just weeks before the contentious midterm elections, and could draw new public scrutiny to her allegations about the affair and efforts by Mr. Trump and his former lawyer, Michael Cohen, to cover it up.
The sex angle, of course, could actually make Daniels's book more explosively pervasive than Woodward's, and if you add up the inevitable advance excerpts, the publicity events, and the many follow-ons, it could dominate big parts of the entertainment and political news world for a significant share of the run-up to November 6.
Yes, parts of her story were revealed during her 60 Minutes interview in March. But she says there's more:
Daniels said there will be new details in the book, titled "Full Disclosure," that the public hasn't heard.




"Everybody knows that a lot of the '60 Minutes' [interview] was cut down for time and there are things that I said in my interview that I really wanted people to know that are very important to me that I didn't get to say," Daniels said Wednesday on ABC's "The View."
It's always possible the book will be underwhelming and won't have the impact Daniels appears to expect. But for some period of time, it will distract the public and the media from dwelling on the president's and the GOP's campaign talking points.