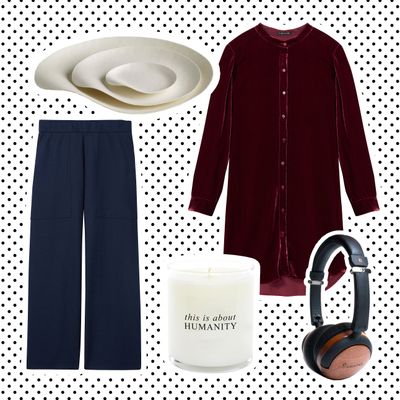 Photo: Eileen Fisher product photography by The Line Studios
It all began when you started packing your lunch in a (very cute) reusable bento box. Then, you were overtaken with the need to overhaul all of your plastic leftovers containers with glass. Next thing you know, you're throwing out your former-favorite lipstick for a "natural" upgrade. Because consuming more consciously is a common obsession these days, we asked three stylish, in-the-know women about the things that help them get through the day, while also giving them peace of mind about their impact on the world around them. Read on for their picks, including fall pieces from Eileen Fisher — whose pioneering practices are both environmentally and socially sustainable.
Sydney Oh
Fashion PR director and ceramic artist behind Milk and Clay
1. J.Hannah [one of Oh's PR clients] nail polishes are seven-free, and I keep my favorite colors at my desk. 2. Dressing with ease is super important to me, but I also have to keep in mind staying polished for meetings. This navy button-down is classic and easy to dress up or down. 3. Office temperatures are never quite right, so a cozy cardigan is key, and this one is made from organic cotton. 4. I can't go a day without wearing jewelry and J.Hannah has the best assortment. Made per order in downtown L.A., all stones are ethically sourced and conflict-free. 5. In addition to using ceramics for lunch, this biodegradable tableware is a chic alternative to single-use plastic dishes. They're design-forward, tree-free, and compostable — perfect for our frequent office celebrations.
Jennifer Barthole
Fashion editor and stylist
1. I sip from this BPA-free, stainless steel insulated water bottle to avoid the plastic cups at my office. 2. Bright sweaters make my jeans feel more "dressed up," and the vivid color puts me in a good mood. This one's made of seasonless fine merino, so I'll get tons of wear out of it. 3. Pants with volume balance out my petite frame. These washable wide-leg pants make the simplest T-shirt and loafers feel sophisticated, minus the dry cleaning. 4. I was gifted a delicious candle made by a woman living in a refugee shelter, who is supporting her family through the profits. Proceeds from this new candle are being donated to meet the needs of families separated at the border. 5. I own these pointed flats — constructed with low-waste, low-impact materials—in three colors and keep them at my desk or in my tote.
Jinnie Lee
Freelance writer and co-founder of STET
1. I use all three sizes of these reusable ripstop nylon bags everyday. I carry one baby and one standard on me at all times so I never have to use a plastic bag. 2. The shape of this dress reminds me of a stylish school uniform — there's a no-brainer quality to layering it over a T-shirt or a button-up, allowing me to do more with less. 3. Velvet generally feels decadent, but when the silhouette is this easy-going, it becomes a casual piece that can also be dressed up. And it's dyed without harmful chemicals. 4. This brand carefully considers how all parts of their headphones are manufactured — responsibly! And the natural wood design is slick and classy. 5. I stan so hard for these clogs! They're the ultimate ugly-chic shoes, and the brand was founded by a husband-and-wife team and is 100-percent employee-owned.
This is paid content produced for an advertiser by New York Brand Studio. The editorial staff of The Cut did not play a role in its creation.