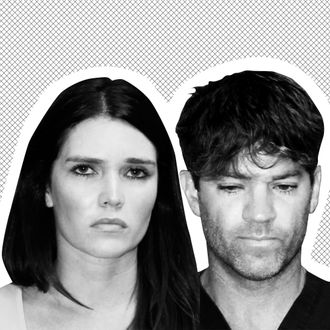 Cerissa Riley and Grant Robicheaux.
Photo: Shutterstock
Just one day after reports emerged that a California doctor and his girlfriend were facing charges for drugging, sexually assaulting, and filming their sexual encounters with two women, at least six new people who believe they may be victims have come forward.
According to court documents, orthopedic surgeon Grant Robicheaux, 38, and his 31-year-old girlfriend Cerissa Riley would meet women in restaurants or bars, drink when them until they were intoxicated, and then take them back to Robicheaux's apartment, where they would allegedly sexually assault them. Per prosecutors, this occurred with at least two women, and the couple also recorded both of the alleged incidents. The defendants were arrested on September 12, though they deny all the allegations.
The first assault allegedly took place in April 2016, after the couple met a 32-year-old Jane Doe at a restaurant in Newport Beach, invited her to a boat party, and took her back to Robicheaux's apartment once she was intoxicated. There, prosecutors say that the couple "[supplied] multiple drugs to the victim," and then "[raped] and orally [copulated] her while she was prevented from resisting due to intoxicating and controlled substances." In a forensic exam she had the next day, she tested positive for multiple controlled substances.
In October 2016, Robicheaux and Riley allegedly had drinks with another unnamed woman at a Newport Beach bar, waiting until she lost consciousness to take her back to the former's apartment. According to officials, the woman regained consciousness during the alleged assault — during which the couple allegedly intended to commit rape — and let out loud screams, compelling a neighbor to call 911.
At a press conference on Tuesday, Orange County District Attorney Tony Rackauckas told reporters that they believe the couple used their "good looks and charm" to disarm "their potential prey," adding that the women likely trusted Robicheaux because he was a surgeon and Riley because she was a woman. (In 2014, the surgeon was picked to appear on the Bravo reality show Online Dating Rituals of the American Male, in which he went on dates with multiple women.)
Officials say they've discovered more than 1,000 videos on the surgeon's phone in which women who appear to be unable to consent perform sexual acts, leading them to believe there could be "many unidentified victims out there," as Rackhaus told reporters on Tuesday. On Wednesday evening, Orange County District Attorney Chief of Staff Susan Kang Schroeder told CNN that six new possible victims had come forward since the initial reports emerged, and more than 30 people had called investigators.
Per NPR, the defendants have been charged with multiple felonies, including rape by use of drugs, oral copulation by anesthesia or controlled substance, and possession of a controlled substance for sale; they were released on bail after they paid $100,000. If convicted, Robichaux could face up to 40 years in prison, and Riley could face up to 30 years and eight months. Their arraignment is scheduled for October 25.
"We've all heard of a wolf dressed up in sheep's clothing," Rackauckas said at a press conference. "Well, a wolf can wear scrubs or doctor's clothing or a wolf can be a beautiful woman."
This post has been updated.