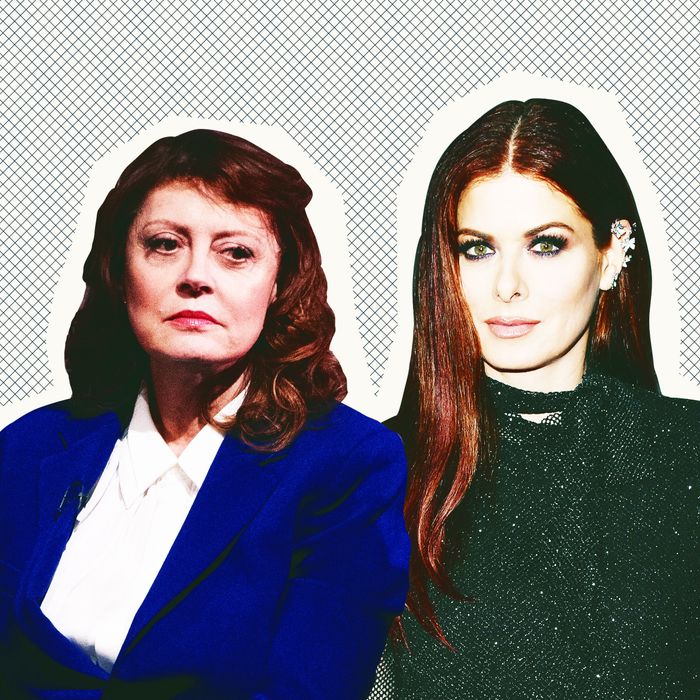 Susan Sarandon and Debra Messing.
Photo: Getty Images
It all started in March 2016, when Sarandon, a proud Bernie Sanders supporter, implied on MSNBC that she'd rather vote for Donald Trump than Hillary Clinton, which infuriated — and continues to infuriate — Messing, who just this week told Sarandon to "STFU."
Below, a comprehensive history of their professed disdain for one another.
March 29-30, 2016: Before Clinton defeats Sanders in the Democratic primary, Sarandon appears on MSNBC's All in With Chris Hayes to vocalize why Sanders's democratic socialism is preferable to Clinton, an Establishment Democrat. The interview quickly becomes controversial when the actress suggests that a Trump victory might "bring the revolution," which could make it preferable to a Clinton presidency. The public is quick to criticize the remark, which she later attempts to clarify on Twitter. Her explanation isn't enough for Messing, who accuses Sarandon of being unaware of her privilege, as well as using her voice irresponsibly.
"Susan Sarandon muses tht Trump prezcy wud b better 4 the country thn Hillary," she tweets. "Wonder if she'd say that if she were poor,gay,Muslim or immgrnt."
Sarandon attempts to defend herself, asserting that she would never vote for Trump.
November 14, 2016: At this point, Trump has been elected president. About a week later, Sarandon suggests on Twitter that the left "reach out in dialogue to those who voted 4 him," as she thinks there's no use in having a "blanket judgement of them."
"We need allies in that camp," she continued. "Possible."
Messing proceeds to dispute her Twitter foe's logic.
"JESUS CHRIST," she tweets. "NOW she wants to give racist, islamophobic, homophobic, sexist,mysogynists a chance!"Pure" 4 Bernie. FUCK everyone else."
This time, the fight quickly moves beyond the presidential election and progresses to cause-baiting, with Sarandon urging Messing to vocalize her support of the people at Standing Rock who were protesting the Dakota Access oil pipeline.
"I know Debra cares about a lot and hope she will care about #NoDAPL as well since Standing Rock needs her voice now more than ever," she tweets.
May 2, 2017: Sarandon appears on Watch What Happens Live, where she tells host Andy Cohen that she believes Messing to be "not very well-informed," and accuses her of being ignorant.
"Sometimes she gets in areas that she really hasn't thought through," she says. "She's Trumpian, a little bit, like that."
Sarandon also clarifies that their feud is confined to Twitter, as the two both frequent Rangers games, where they do not talk. Messing does not respond to this interview.
September 12, 2018: More than a year after their last Twitter spat, Messing reignites her feud after viewing one of Sarandon's interviews with Variety, in which she says the only silver lining of a Trump presidency is that his discriminatory policies have unintentionally led more women and people of color to run for political office.
"STFU SUSAN," Messing quote-tweeted the interview. "Oh yes, PLEASE let's give Trump CREDIT. I mean how else are you able to walk out on the street. Convince yourself that that this CATASTROPHE of a President who you said was better that HRC IS NOT ripping children away from parents seeking asylum, holding children."
And then she goes on to outline the Trump administration's anti-woman and anti-immigrant policies, concluding by calling Sarandon a "self-righteous narcissist."
As of this writing, both actresses appear to be taking Messing's advice.