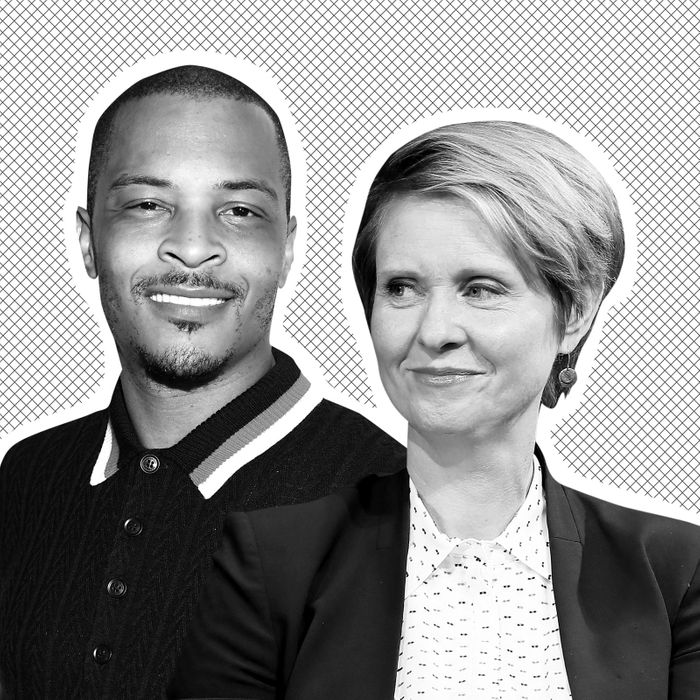 T.I. and Cynthia Nixon.
Photo: Getty Images
Democratic gubernatorial candidate Cynthia Nixon has received a lot of endorsements in her primary race against sitting New York governor Andrew Cuomo, including ones from Alexandria Ocasio-Cortez, The Nation magazine, Sarah Jessica Parker, and now, the rapper T.I., who says he has "no idea" who she is, but that she has his full support.
On Monday, T.I. shared a clip of Nixon from her recent debate against Cuomo, in which she says:
"I think it's very important that we legalize marijuana here in New York state. Eight other states have done it, plus the District of Columbia. There are a lot of reasons to do it, but first and foremost, because it's a racial justice issue. Because people across all ethnic and racial lines use marijuana at roughly the same rates, but the arrests for marijuana are 80 percent Black and Latino."
"And what I would say," she added, "is that effectively marijuana in New York state has been legal for white people for a long time, and it's time to make it legal for everyone else."
T.I. evidently liked what he heard, because he wrote: "I have no idea who this brilliant lady is…But she's invited to my next bbq/family gathering and if she's running for anything…ANYTHING I SAY..She's got my vote!!!Right on to the Righteous Decent White People out there,using their privilege to make a difference!!!"
We'll see how much of an impact T.I.'s endorsement has soon. New York state's primary election takes place Thursday, September 13.
Update:
Nixon responded to T.I., telling him her name is Cynthia, and encouraging him to tell all his friends in New York to vote on the 13th.