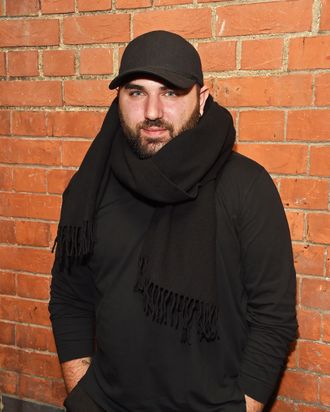 Photo: David M. Benett/Dave Benett/Getty Images
Michael Halpern knows what you've been saying about him. "Of course I'm a little bit tacky, that's the aesthetic," the designer told the Cut. Halpern's eponymous brand has become known as the most sparkly of London Fashion Week and possibly the whole of fashion month. It's also earned the stamp of approval from Beyoncé (the highest in all the land). His collection is about mixing together fabrics, colors, and textures to make the most outlandish combination possible, then paring it back into a stylish middle ground. Despite all that, he keeps his own style pretty simple with black hats, Hanes T-shirts, and Tevas. We spoke with him about his taste.
How do you thank someone for a gift?
Flowers.
What would you never wear? 
I don't think I would ever wear a proper suit, like a pinstripe suit. But I love a tuxedo.
What's your dream vacation?
Anywhere I can swim in the ocean.
What's a good book on your coffee table right now? 
I found a picture book of Christian Lacroix.
Favorite piece of furniture in your apartment/office?
I just got this rug by a British designer, Wendy Morrison. It almost looks like a children's illustration and it has these birds, trees, and flowers on it.
Last show you binge-watched?
The Handmaid's Tale. I'm in the middle of season two right now.
What's your go-to dinner-party meal?
Roast duck. I watch a lot of Bon Appétit YouTube videos.
What is a trend that you like right now?
I like that people are wearing more hats. People don't recognize me when I take my hat off.
One you don't understand?
Leggings.
Favorite museum/gallery?
I love going to the Met, but not necessarily for the collection. I love walking around the Met. And going to the Frick Collection.
Shoes you wear most often?
I wear Tevas every day. They're comfortable, you can travel in them, you can go out in them, you can dress them up with a fancy pair of socks — they're just the best thing in the world.
What's your favorite…
Flower?
Tuberose.
Pajamas?
I don't wear pajamas.
Scent?
Serge Lutens.
Sheets/bedding?
I don't like anything too crisp. I like Yves Delorme.
Restaurant?
Nancy Silverton's restaurant in L.A.
Suitcase?
I don't know what kind of suitcase I have. We have so many in the office, I just take what I need.
Socks?
Classic Goldtoe.
T-shirt?
A very washed Hanes T-shirt. No tag.
Shop the Story