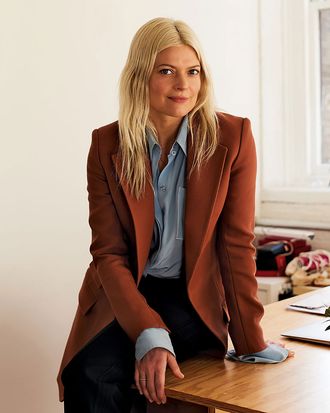 Kate Young.
Photo: William Jess Laird
You'll probably see some of Kate Young's work on the Emmys red carpet tonight. Young — who started out as Anna Wintour's assistant — works with many fashion-world darlings and has been frequently named one of the top stylists in the world. Her client list includes Selena Gomez, Natalie Portman, Margot Robbie, model Adwoa Aboah, and Sienna Miller. When she's not working with celebrities, she's designing an optical line for Tura. We spoke with her about her favorite sustainably made sneakers and the one red-carpet look she'd never wear.
How do you thank someone for a gift?With a handwritten card … sometimes a very, very long time after receiving the gift.
What would you never wear? 
A turquoise gown.
What's your dream vacation?
The Harmony Hotel in Nosara, Costa Rica — I go with my family as often as possible.
What's a good book on your coffee table right n
ow? I just got Loulou & Yves and I cannot wait to start reading it.
Favorite piece of furniture in your apartment/office?
My kids & husband built the Enzo Mari Sedia chair in my living room. It's everything I love: high design, simple materials, and made by people I love.
Last show you binge-watched?
The Staircase, and then I binge Reddit-ed the whole thing. I kind of believe the owl theory, for the record. 
What's your go-to dinner-party meal?
Tacos. They're good for vegans, gluten-free people, and kids. It's a real crowd-pleaser and I get to use a lot of the bowls I make at ceramics class.
What is a trend that you like right now?
Inclusion.
Favorite museum/gallery?
I really love the Tate in London. I also love my good friend Gaines's gallery Sears-Peyton in Chelsea [New York].
Shoes you wear most often?
Veja white tennis shoes.
What's your favorite… 
Flower?
Dahlias.
Pajamas?
Everlane.
Candle?
Byredo Bibliotheque.
Scent?
Le Labo Gaiac.
Sheets/bedding?
Raf Simons for Calvin Klein — white sheets with black piping.
Restaurant?
Botanica in L.A.
Suitcase?
Louis Vuitton roller with my initials.
Socks?
Bombas.
Jeans?
Re/DONE Levi's.
Shop the Story
This interview has been edited and condensed.
If you buy something through our links, New York may earn an affiliate commission.