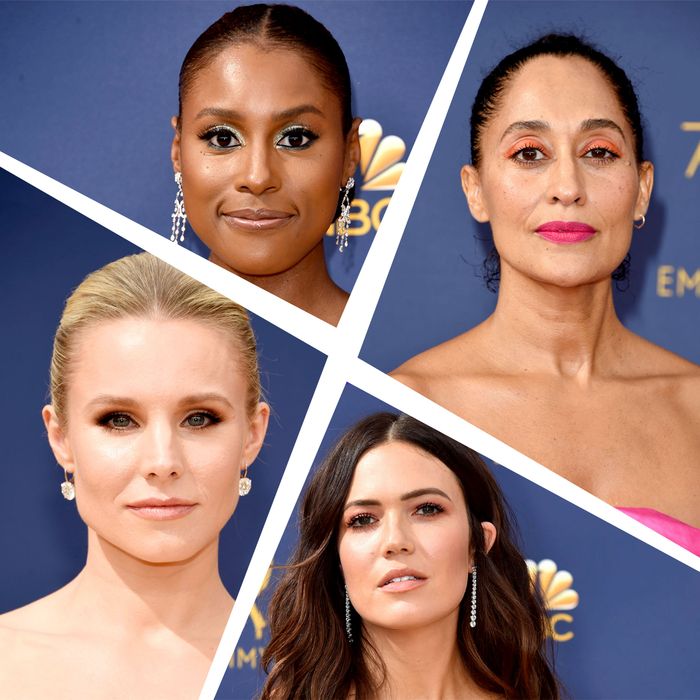 The Emmy Awards aren't particularly known for being groundbreaking in the hair and makeup arena, but this year, we were treated to a handful of noteworthy looks that deserve some public acknowledgement on the internet — even if none of them are quite as dramatic as Jonathan Van Ness's sheer turtleneck. Please direct your viewing to the 18 following individuals who wore the best hair and makeup looks of the night.
Best Use of Strategically Placed Highlights: Scarlett Johansson
It's hard to take your eyes off of ScarJo and her cat eyes with that halo of highlights framing her face.
Best Statement Lip: Adina Porter
Leave it to an American Horror Story star to pair a sunny gown with a goth lip.
Best Impression of an American Girl Doll: Natalia Dyer
From the perfectly shaped waves to the doe eyes, Natalia Dyer's entire look was flawless in the most literal sense of the word. She looked like a living doll.
Sharpest Side Part: Madeline Brewer
While many center and side parts walked down the carpet, Madeline Brewer's took a fun diagonal detour and managed to be the sharpest, most precise of the bunch.
Best Use of Shimmer: Issa Rae
A lot of attendees wore shimmery eyeshadow at the corners of their eyes, but Issa Rae's mix of sky blue and silver not only matched her Vera Wang dress but was completely comprised of affordable CoverGirl products.
Best Reminder That It's Technically Still Summer: Tatiana Maslany
Fall technically doesn't start until Saturday, September 22, so take a cue from Tatiana Maslany and take that coral lipstick for another spin.
Highest Ponytail: Marsai Martin
Ever since Ariana dethroned her ponytail, there's a job opening for highest pony in the land. I think Marsai Martin's just might be it.
Best Lashes: Angela Sarafyan
Honestly, who needs to wear any other products when you have lashes like these?
Best Color Story: Tracee Ellis Ross
If you were wondering how to correctly execute the color-block eyeshadow trend, this is it.
Best Cold-Brew Hair: Mandy Moore
Cold-brew hair is all the rage this season, and have you seen a more refreshing batch?
Most Convincing Case for Eyeshadow Palettes: Kristen Bell
This perfectly blended, gradient-effect smoky eye is the reason eye palettes exist and yes, you should definitely invest in one now.
Best Use of Hair Accessories: Letitia Wright
A sparkly take on the flower bouquet trend.
Best Brows: Sarah Paulson
Before skinny brows come back with a vengeance, take a moment to admire these shapely beauts.
Most Relatable Hair: Tina Fey
Meghan Markle wore a messy bun to the royal wedding; Tina Fey wore a messy topknot to the Emmys. This is the year down-to-earth hairstyling finally gets its due.
Best Textbook Definition of Beachy Waves: Jessica Biel
I haven't typed the words "beachy waves" since 2011, but I have to admit, these may be the beachiest beachy waves to ever exist.
Cutest Curls: Yara Shahidi
Find me a ballerina bun more endearing than Yara Shahidi's.
Most Captivating Updo: Ryan Michelle Bathe
In a sea of slicked-back center and side parts, Ryan Michelle Bathe's highlighted twisty updo was a welcome reprieve. Her date, Sterling Brown, wasn't too bad to stare at either.