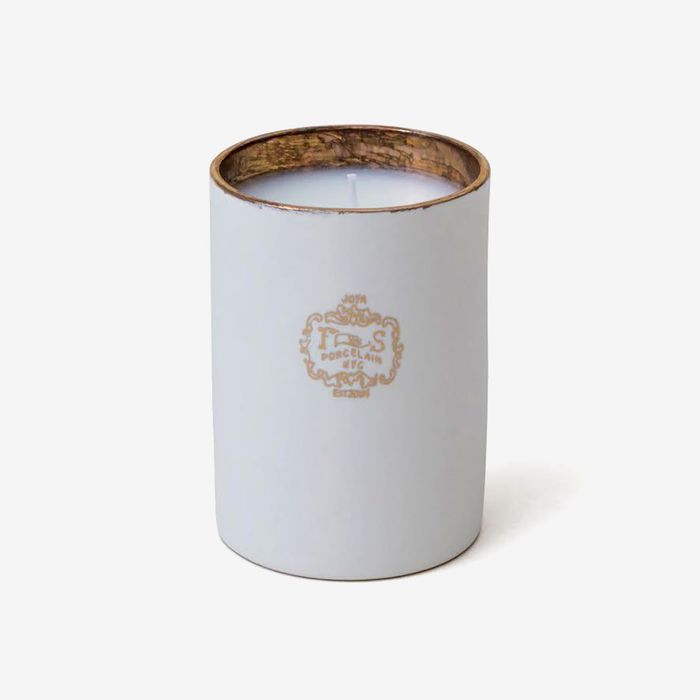 Home: It's where I want to be, pick me up and turn me 'round; less pleasingly, it's wherever I'm with you. They say you can't go there again, but look at me, writing from "home" right now (my apartment, while burning this candle that I'll get to in one minute). Home is the supreme destination, and it's the place I'd like to be at almost all times, particularly when I am at a party I felt I had to go to out of obligation. But could it be made better, homier, more itself? Perhaps with a candle?
It is my opinion that it can, with Joya's new, limited edition "Copaline" candle, which markets itself as nothing related to home, but of which I am allowed my own interpretation, thank you. Here's how the candle, which comes "with 22k gold drip interior on hand-cast porcelain," is marketed:
The object's gold drip inside is hand-painted and reveals itself as the candle burns down. This technique evokes the copal tree's production of its precious resin, one of nature's more beautiful forms of expression and self-defense.




Top Notes: bergamot and feni. Heart: rockrose, velvet musk, cedar leaf, patchouli and white amber. Drydown: copal resin, guaiacwood, powdery sandalwood, agarwood, and saddle leather.
Of course, I don't exactly know what most of that is. But damn, if it doesn't sound good.
But damn, is it good?
Is the candle good?
I must admit that I gasped upon opening the box containing this candle. The porcelain vessel is quite beautiful, very nice to touch, and much more expensive looking and feeling than most other things I own. It is petite and gold on the inside and I can't wait to reuse it for I'm-not-sure-what after I burn the candle to its end. Oh — maybe for holding flowers.
The scent, too, seems expensive: warm, round, and soft. A friend commented, of the burning candle's scent, "this smells like vanilla." Well. Okay — yes, I will admit it smells sort of "like vanilla." I suppose that is the velvet musk and the amber. However, I must insist this is a more complex soft scent, earthier and a bit spicy.
It smells like the default home scent of a very rude, wealthy woman who is wearing a big fur coat and has a gigantic dog for status rather than love.
How much does it cost, and how long will it last?
Fittingly, it is non-inexpensive. It costs $88 and lists an approximate burn-time of 70 hours.
When should you burn this candle?
Oh, gosh. It would be perfect on a chilly day you've taken off of work, cozy on the couch. A day when you know you do not have to leave the house. A day when you decide to have a glass of wine at 4 p.m., because wine not. You deserve it! Light the candle, have a glass of wine, read a book, and be content knowing that you are home.
Who should buy this candle?
Your richest friend, as a gift for you. They have the money, come on.
If you buy something through our links, New York may earn an affiliate commission.