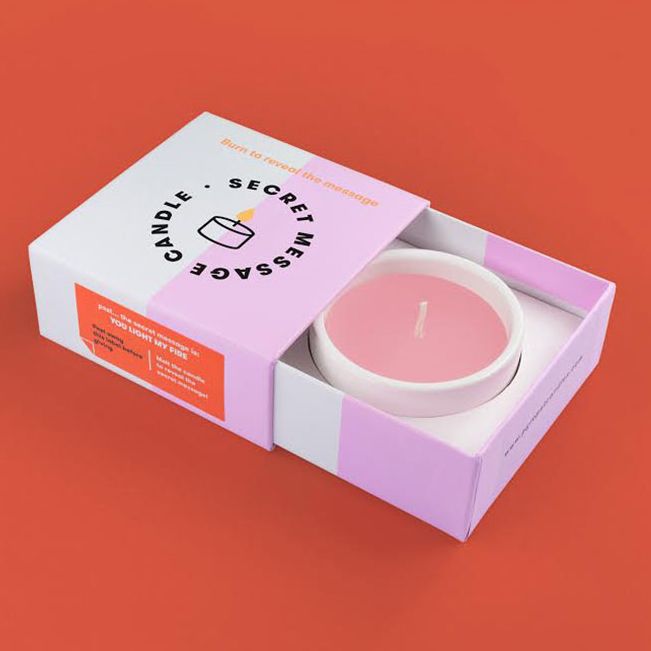 Photo: Courtesy of Celsius54
I'm pregnant; I'll marry you; health insurance will cover some of the cost; the internet stopped working and it's never coming back; Dan, I submitted one of your short stories to The New Yorker and, guess what, they're publishing it; I got my period. There are moments in life when we have something exciting to share and would like to do it in a special way. Until now, the choices were: yelling it, saying it quietly, and saying it regular. But now there is an additional choice: this candle, by a company called Celsius 54.
How does it work? Well, here's how the candle is described on the Celsius54 website:
Send your very own secret message to a special someone. You can say almost anything as long as it's 32 characters long or less.

Reveal the message in the bottom of the cup as the wax melts and becomes translucent. Allow 1-2 hours (Or a nice dinner).
Of course, we usually review scented candles here but I'd like you to please point out to me where that was explicitly stated as a rule and then see me in court. Is this non-scented secret-message candle good? Let's see.
Is the candle good?
I truly love it, it is so silly. Imagine your loved one makes you dinner and lights this candle in the middle of the table, making small talk until the wax melts enough that you can see the message inside. "Look at the candle," they'd say. In the melted wax you see to the candle's bottom: "DO YOU WANT TO MOVE IN?" Oh my. "No, thank you," you'd say, "but thank you so much for asking me in a creative way."
Or I guess maybe you can just light it while you guys are watching TV and then say, "Honey, can you look inside of the candle for a second? I think there is something wrong in there." And then they look inside: "HELLOOOOO FROM A GHOST." Ah! Very scary!!
How much does it cost, and how long will it last?
If you'd like a custom message, a candle is $19.99. If you'd like a standard message (the company offers: "YOU LIGHT MY FIRE," "HAVE A MAGICAL BIRTHDAY!," "I'M FLAMING GAY"), a candle is $11.99. To reveal the message takes about an hour, but the candle probably lasts around ten.
When should you burn this candle?
When you have a surprise, or when you just want to say something normal but you want to say it with a candle. "REMEMBER TO GO TO THE DENTIST," you can tell your husband, etc. I guess it depends on how much money you have, and how much you want to spend $20 to say something.
Who should buy this candle?
Anyone with a surprise and 20 extra dollars. Or anyone who wants to send themselves a special message because they are worth it, for example: