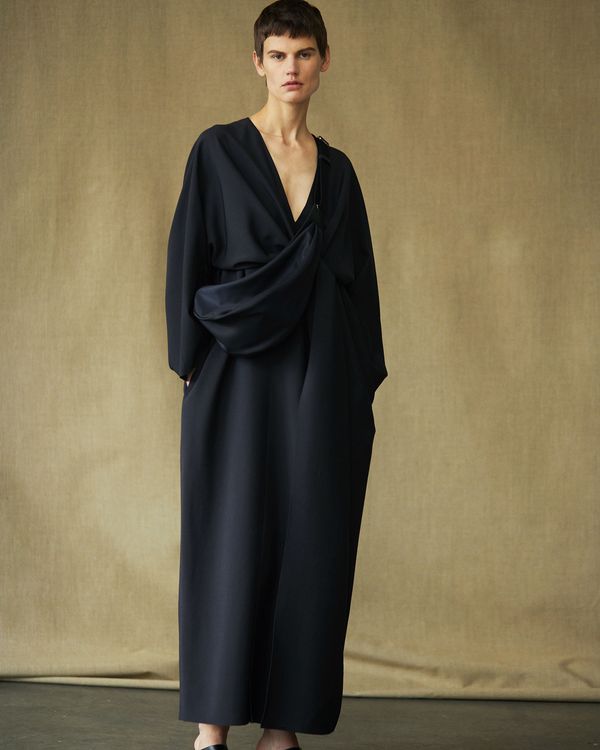 The Row Spring 2019.
Photo: Courtesy of The Row
Fashion designers and style icons Mary-Kate and Ashley Olsen proved once again this week that they definitely, probably, please for the love of God, were capable of taking over Céline. Sorry, Celine.
Their spring 2019 presentation for The Row on Monday during New York Fashion Week was dripping the same sort of luxurious ease that former Celine designer Phoebe Philo made droves of women yearn for season after season. With Philo now gone, The Row simultaneously satiates that thirst and makes Philo-philes drool even more. I ate a croissant on my way over to the brand's presentation and can confirm that Mary-Kate and Ashley's bags, knits, coats, and roomy turtlenecks were more buttery … and way more expensive.
Celine comparisons aside, the Olsen sisters have their own thing going at The Row. They put in the time and effort to source the best fabrics and techniques from around the world: shirts from France, knits from Italy, Japanese tailoring. And they have an aesthetic that's completely their own. Much like Mary-Kate and Ashley's personal style, The Row's oversize clothes do that impossible thing where they melt off the body in a controlled way; their lines are both intentional and invisible. It's the kind of design where you see it in person and realize how ugly the rest of your day/life has been. Or at least, that's how I felt on Monday morning.
One of my favorite pieces from The Row's spring 2019 collection was a bag, specifically a fanny pack. It stood out because fanny packs, worn over the shoulder like a cross-body bag, have become something of a mainstream trend this year, sported by everyone from the Kardashians to kids in Soho. It's not like the Olsen sisters to follow trends, but they took the humble fanny pack and elevated it beyond recognition.
First of all, The Row's fanny pack is easy to miss because it blends in with the rest of the look, as opposed to distracting from it. When you finally see it, though, you realize that it hits at exactly the right place. It reads as easy and natural, like a part of the model's body. Maybe she's been wearing it her whole life.
The point of wearing a fanny pack is easy access, and what's so brilliant about the Olsen sisters is that they give you a bag and pockets. They know you want to keep your cigarettes in one, and your lighter in the other. They know you need to go from lunch at Dimes with Jonah Hill to a black-tie dinner with the former President of France. And they know that most of our lives do not actually involve any of the above, which is why I want The Row's fanny pack more than anything.