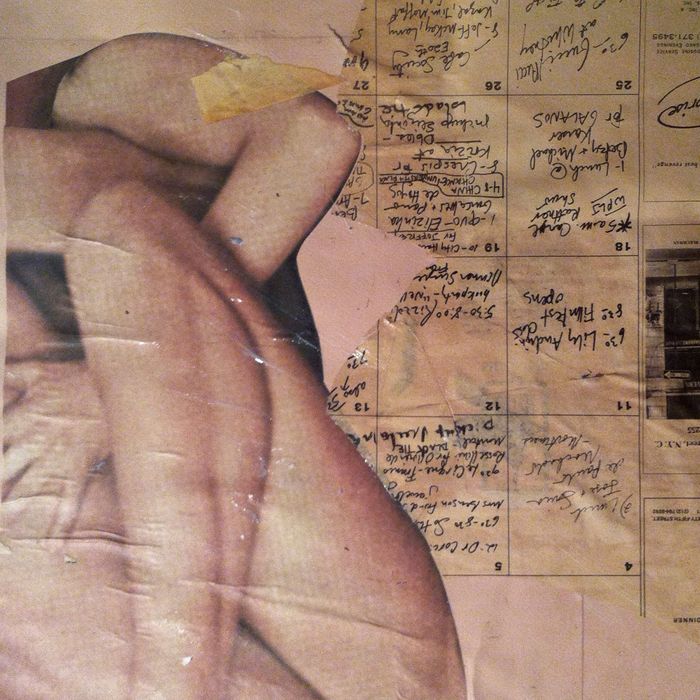 This week, a 29-year-old woman seeing several men and feeling unsure about all of them: single, straight, TV industry, Brooklyn.
Day One
8:35 a.m. I wake up in the king-size bed of a new guy I've been seeing. E is Eastern European, 33, and 6'4". Like most of the men in my life these days, we met on Hinge. The previous night was our fifth date. He's great, but I'll admit it: I would love for him to get into a fitness regimen and tone up. I go back to bed because I'm not quite ready to be mobile.
10 a.m. I can't stay asleep, so I paw at E and we transition into foreplay. This is our third time having sex, and every time seems a bit better than the last.
11:30 a.m. E and I end up having sex a second time, and lucky for me, I come both times. I'm very fortunate that I have an easy time orgasming.
12:30 p.m. E had wanted to take me to breakfast, but I had to work a bit before I went canvassing for one of Brooklyn's primary candidates. He drops me off at my place, and I head down to my building's gym to do a quick elliptical.
2:45 p.m. My sister and I head out to go canvass. She and I live together and she's one of my best friends. I'm really lucky to have such a strong relationship with her. I had a really pleasant childhood, though I did experience some bullying and hated my small town. I debrief my sister on E on our way …
7:30 p.m. Canvassing wipes us out, so we treat ourselves to a car ride home and order ramen.
8 p.m. Ramen arrives, and we sit watching our new fave, Brooklyn 99. We're talking about our respective guy issues, and I decide to text A, an older guy I've been seeing for a few months, but can't fully commit to. A is being a bit elusive over text. Is he finally seeing through my bullshit?
Day Two
6 a.m. Wake up feeling focused and ready to take on the week. I work for a television network and do social media. I've always been obsessed with pop culture, and I love that I'm doing exactly what I want to do.
9:45 a.m. Get in on the earlier side (I usually get in closer to ten). It's one of my co-workers' last weeks AND I'm covering some work for another. Working in social media means that I never really have a day off.
11:45 a.m. A finally responds to my question about when he's free next. A is in the restaurant business and rarely has a free day. We also met on Hinge back in April and have been consistently hanging out since. He's 19 years older than me, but treats me like an equal. He's mentioned several times that he can't date more than one person and that he likes me a lot, but I'm still not ready to get to the next level with him, whatever that is.
He confirms that he has Tuesday off. With tonight free, I make a plan with my friends to watch the VMAs.
7 p.m. My hours are usually ten to six, but today was a bit longer with my co-worker out. I did manage to get all the work done!
9 p.m. The girls head over and we start watching the travesty that is the VMAs. "The girls" are childhood best friends of one of my neighbors-turned-bestie, and they've become some of our closest friends. We're all around the same age, so we've started reminiscing on the heydays of MTV.
11:40 p.m. The girls leave early because we are all tired and don't have time for this nonsense. Plus, I have early Pilates.
Day Three
7:40 a.m. My Pilates class kicks my ass every single time while also shaping it. It's a studio right by my house and I usually go with my sister.
11:30 a.m. Texting with A about plans for tonight. He invites me to his place, and I start stressing about not wearing cute lingerie. His response is the best though: "Not a problem. You look amazing naked."
1:50 p.m. Change of plans: A wants me to meet at his friend's restaurant close to my office. Convenient, minus that I have to go to my therapist on the UES first. He mentions coming over to my place instead of his, knowing it will be more convenient for me in the morning.
6:30 p.m. Therapy, the greatest gift I give myself. My therapist is amazing. She's good at checking me when I'm going down a negative thought path or not sure of my emotions. I talk a little about work, how I'm working on my new attitude and approach, as well as a little bit about the men I'm seeing.
8 p.m. Meet with A at the restaurant, and it's kind of an impromptu double date with his friend and his friend's husband. I've met this couple before and know they're entertaining and very much old-school New York. A used to work with this friend.
9 p.m. W, a different guy I matched with, texts me. We've had two unsuccessful attempts at a first date. The most recent was last Friday, and he canceled because I didn't respond right away to his message about being late. He wants to try one more time, and I'm willing because he reached out. I tell him I'll confirm tomorrow.
9:30 p.m. A's friends leave, but he and I stay to finish our rosé. Then we decide to go to my place.
10:30 p.m. A and I have been hanging out for about four months now, and I still don't know a lot about him. I mention this casually, and he uses this as an opening for what is now our fifth conversation about the state of our relationship. This time, I'm ready.
I mention how much I enjoy being around him and how he sees me. I know something's been holding me back, but I think I'm ready to see him regularly and make time for him. He mentions that he's pulled back in the past (this week, maybe?) when he feels off about us, though he's learned to enjoy the pace we're at. My most recent ex kind of dictated the speed of which our relationship developed, and it's nice to know that A understands where I'm at and why I need to go slow.
Day Four
8 a.m. Knowing A was sleeping over, I allowed myself the chance to sleep in and forgo my morning workout.
8:30 a.m. I can't sleep too much longer, especially if I want any chance of a morning quickie. He's not as hard as he can usually get in the morning, but I'm determined to get him inside me.
1:30 p.m. Chatting with E about when to meet up. There's a happy hour for my co-worker who is leaving, and I discuss inviting him with some co-workers. They're encouraging, partially out of curiosity. I decide to do it, and tell him I'll text when I head to the bar.
4:30 p.m. I text W back to let him know I'm free Thursday. Maybe I'll enjoy this date after all?
7:05 p.m. Get out of a late meeting and see a missed call from W. I'm not against talking on the phone, but find it weird when I haven't met the person.
7:45 p.m. E arrives and meets a few co-workers. He heads to the bathroom before ordering a drink and my co-workers mention something I've tried to not focus on: his heavy cologne use. I'm not really sure what to make of it.
8:15 p.m. E and I finish our drinks and I say good-bye. I'm ready to just hang out with E.
9:30 p.m. E lives in Bushwick and takes me to a few new spots. We play a round of pool. E isn't as expressive in terms of compliments and regular flirting, and I haven't quite figured him out yet. We end up having a conversation about our relationship status. He mentions he's enjoying the pace, which is a relief. I'm not ready to move any faster with him at the moment.
10:30 p.m. We head back to E's to fool around. I suck him off before both rounds and then we switch from me on top to him bending me over. Each time I come a few times, and I fall asleep not long after the second round.
12:05 a.m. I wake up and then E takes me home.
12:45 a.m. Text A as I'm getting ready for bed. He mentions he's working at his restaurant the next day and asks me to stop by. I already know I will after my date with W, but I fall asleep before answering him.
Day Five
8 a.m. Get out of the shower and realize that E left marks on my chest. Hope A doesn't notice!
4 p.m. Based on W's sensitivity about confirmation/communication, I reach out to show respect (and also make sure I know where I'm going).
5:30 p.m. W finally gets back to me and asks to chat. What is it with this guy and phone calls?
6 p.m. Answer W's call. He says he has a sick relative, but that he'd like to hang out at some point. I express understanding, though I know I won't see him. This is our third attempt to try to meet. Three strikes, you're out.
7:30 p.m. Head to A's work to visit him. I love visiting him at work because he can usually chat pretty frequently, and I always get some good wine and bites out of it. The more I hang out with A, the stronger my feelings grow for him. He's respectful to my friends, and he doesn't use his age as some kind of power against me.
9:30 p.m. Bid A adieu and get home to see my sister and friend hanging out. Hang out for a bit with them and then make my way to bed.
Day Six
7:45 a.m. Wake up realizing I need to sleep in this morning. Learning to listen to myself and allow these breaks is so important for my mental health.
2:30 p.m. Hit with massive post-period cramps, I say good-bye to my co-workers and head home. Nothing ruins an afternoon quite like bad cramps.
4:30 p.m. I make it home and take some extra strength ibuprofen, but I need a quicker remedy. Masturbating doesn't always help — however, it can't hurt at this moment. I play one of my sexy mood playlists, and grab my favorite toy.
5:15 p.m. Between the orgasms and the pain meds kicking in, I'm finally a human again!
6:45 p.m. One of my sister's and my friends come over, so we grab wine glasses, speakers, and head out to our terrace.
10 p.m. Our other friend FINALLY joins us! We basically decided to come together tonight because of her, but due to a big project at work, she only just left the office.
12:05 a.m. A little bit of coke, a little bit of weed, a lot of wine, and I'm an adult woman with the spins. Time to lie down.
Day Seven
7:30 a.m. Up and drag myself to Pilates with my sister. Oof.
9:15 a.m. We survived! Sis and I split to grab coffee and sandwiches for the beach, where we've decided to spend the day.
4 p.m. Enjoy some quality beach time for the first time in 2018. Attempt to avoid looking at my phone and just enjoy the moments. Still, my mind keeps coming back to the idea of relationships. I don't really know what I'm looking for in romance. My most recent ex was older than me, and while I felt like he and I were partners at the time, now that I look back, I realize he was setting the pace for most of our relationship. I would like a long-term love/partner eventually. Kids, I'm not sure — this terrible world. But I also think I would make a good parent if I wanted to be one. I'm trying to prolong answering these questions about myself.
10:30 p.m. Back home. E and I are texting and he tells me he'll be over to pick me up around 12:30. I'm exhausted, so I take this time to get a nap in.
12:15 a.m. E tells me he's en route, so I get up and get ready.
12:45 a.m. He doesn't live that far from me … where the hell is he?
1:05 a.m. E is here. Hoping for a good night ahead, but would love a quickie and some sleep. I try to banish thoughts of A and focus on getting to know E better.
Want to submit a sex diary? Email sexdiaries@nymag.com and tell us a little about yourself.