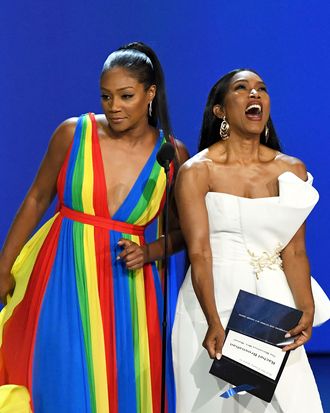 Tiffany Haddish and Angela Bassett.
Photo: Kevin Winter/Getty Images
The 2018 Emmys, an awards show designed to honor the best of television, fell short of being great television itself. The jokes were … fine, for the most part, and there were plenty of well-dressed attendees. In general, though, there was a numbered amount of great moments for the awards show.
Here are the best moments from this year's Emmy Awards.
Alex Borstein shedding her shawl and shimmying onstage after winning her Emmy.
When Alex Borstein won the best supporting actress in a comedy series Emmy for her role in The Marvelous Mrs. Maisel, she shrugged off the silver shawl wrapped around her and made her way up to the stage. She thanked her father and and also pronounced, "I went without a bra!" An inspiration.
Amy Sherman-Palladino and her marvelous hat.
Amy Sherman-Palladino won big at the Emmys. She took home awards for best writing and directing of a comedy series, for The Marvelous Mrs. Maisel, which also won best comedy series. During Sherman-Palladino's two speeches, her sizable top hat could not be ignored; it added additional flair to her emphatic thank-you speeches. Also: Sherman-Palladino is reportedly the first woman in the history of the Emmys to win both the writing and directing award in the same year.
Sandra Oh brought her mom as her date.
Nothing, absolutely nothing, was sweeter than the look Sandra Oh's mother gave her throughout the night. It was maybe the best part of the Emmys.
Tiffany Haddish and Angela Bassett presenting an award.
Tiffany Haddish and Angela Bassett stood side by side, each wearing spectacular gowns, and complimenting each other on their successes over the last year. Before they presented Rachel Brosnahan with the award for lead actress in a comedy series, they gave each other the Black Panther salute.
Regina King reacting to winning an Emmy.
Regina King looked entirely shocked when her name was called for best performance in a limited series or movie. She won for her role in Seven Seconds, and as she took the stage in a bright lime dress, shared that she had gotten lipstick on it just moments before. "Thank you! This is amazing; I wanna curse right now," she said.
Somebody got engaged onstage!
Glenn Weiss proposed to his girlfriend onstage after winning his Emmy, presenting his mother's ring to her while kneeling onstage. He was cheered on by the crowd and went well over his speech time, but Weiss provided one of the most heartfelt moments of the show.
Thandie Newton thanked God, who is a woman.
Thandie Newton won for best supporting actress in a drama series for her role in Westworld, and she took the stage by saying that she doesn't believe in God, but she would thank her anyways. Then she cursed. Before she left the stage she thanked her oldest daughter, her "guiding light," who just turned 18.
Hannah Gadsby reminding us that it is not all men, but it is most men.
Hannah Gadsby presented an award — but no one seemed to care much. They were more focused on the jokes she told in the 20 seconds she was on stage. "Not all men, but a lot them," she said. "Just jokes. But what are jokes these days? Nobody knows what jokes are but especially not men. Isn't that right fellas?" Gadsby is onto something.
The moment when it ended exactly at 11:00 p.m.