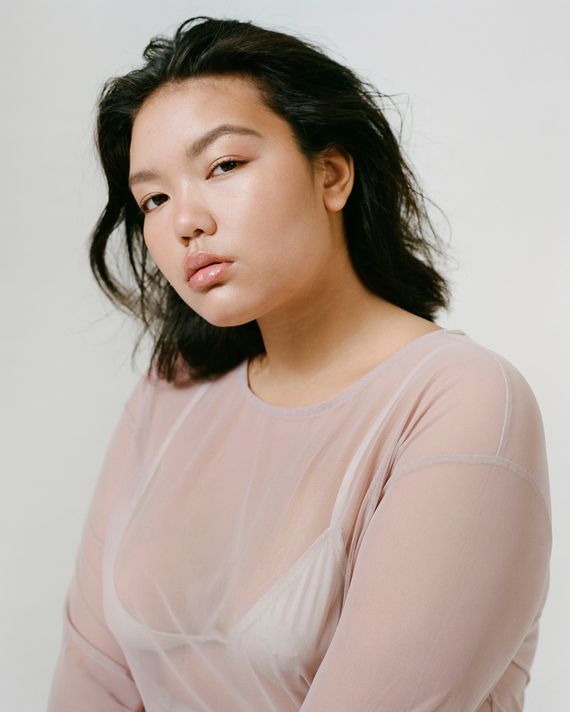 Lovisa Lager is part of a new guard of models. She was scouted on Instagram, has a wardrobe of crop tops and bike shorts, and is driven by a social cause. Lager, who is signed to IMM's Curve division, says that when she was first being scouted, she thought it was a joke. "Coming from Sweden and being plus-size, it's impossible to be a model, basically," she said. "If I have a shoot once a week I'm happy. I'm fine with that. I'm not that picky when it comes to what kinds of shoots because I just want to be out there for representation. I know how important diversity and representation is." We spoke with Lager about '90s hip-hop fashion, Frank Ocean, and Beyoncé.
What is your most-used emoji?
It must be the crying emoji [laughs] — the full-on crying. I can use it in so many scenarios. When I'm laughing, I'm just putting that on.
What is your favorite holiday?
I don't really celebrate any. But it must be Christmas.
If you could spend three months anywhere, where would it be?
Thailand. I'm half-Thai and I really want to go back.
What superpower would you have and why?
Being superfast, because I'm never on time. I always think I have all the time in the world.
What's the best album ever made?
Endless by Frank Ocean. He's my favorite musician ever.
Go-to karaoke song?
"Halo" by Beyoncé.
Who do you think is cool?
Ms. Lauryn Hill.
What fictional character would you love to hang out with?
The whole family from Black-ish. I'd just want to babysit the twins.
If you could be a magazine, what magazine would you be?
i-D.
If you could speak to animals, which animals would you want to talk to?
Dogs.
Jeans or sweats?
Sweats.
What's something your social-media followers don't know about you?
I'm really open! I have four siblings.
What was the last website you looked at?
Nike.
If you could be outfitted by one designer for the rest of your life, who would it be?
That's a hard one. You know when Karl Kani was doing his old, vintage stuff? That. The baggy jeans and big T-shirts.
What do you eat for breakfast?
I'm really bad at eating breakfast. So, coffee.
If you could only eat three things for the rest of your life, what would they be?
Injera, rice and beans, and Thai curry.
If you were a color, what would it be?
Is black a color? Black. Or purple. Or neon green.
Lovisa Lager wears Universal Standard.