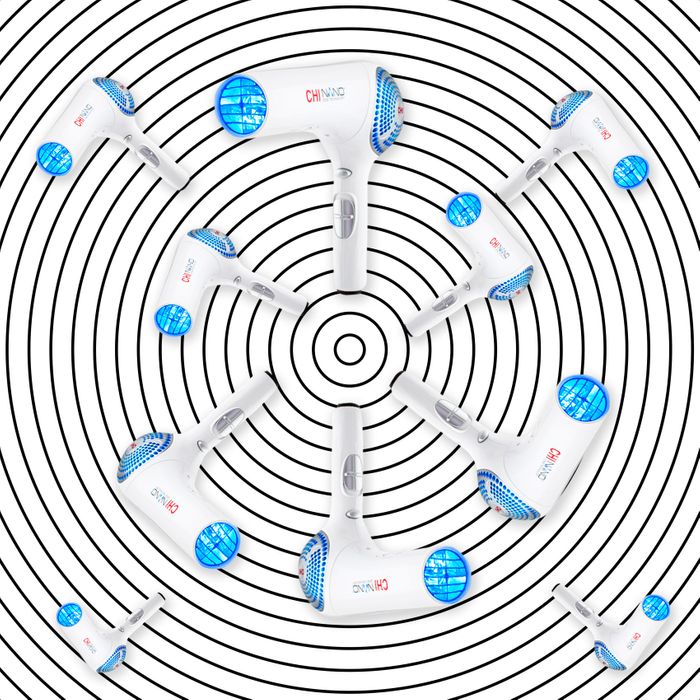 Space technology.
Photo: Courtesy of the Retailer
Is your morning routine a little blah? That's nothing a little space technology can't fix. Chi released a new hair-dryer that purports to use NASA science. Yes, that is correct: the National Aeronautics and Space Administration is lending its research to the world of hair care. The Chi Nano Hair Dryer is astronaut-approved (probably).
This hair dryer has the pretty standard ceramic ion technology we're used to seeing, which supposedly makes water molecules smaller and easier to evaporate (and dry), just like astronaut ice cream. But it also comes equipped with something called "Nano Silver", which sounds more like an Avenger than a hair-care breakthrough. According to Chi, "Nano Silver acts as a passive sterilizing component, creating an area that is in effect self-cleaning; airborne contaminants like fungi and bacteria quickly die after settling on the surface." This, combined with a Blue LED Light system, supposedly offer "cleaner air" during the drying process. Because if there's one thing space is known for, it's air.
This is a great product for anyone who still has their glow-in-the-dark stars on their bedroom ceiling. Now you can bring your love of space to your love of getting a blowout. But the real question here is if it's been given the official Katherine Johnson seal of approval.
Photo: Courtesy of the Retailer
If you buy something through our links, New York may earn an affiliate commission.