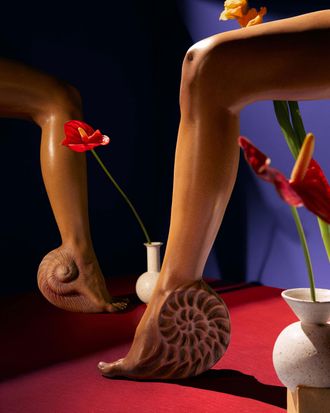 Photo: Courtesy of Luke Abby
The list of storefronts you pay to enter and photograph yourself inside of, as if you are preserving a memory of something more than simply that, continues to grow: The Museum of Ice Cream, the Egg House, Dream Machine, the Rosé Mansion, this pizza thing. I regret to inform you that we must now add another: A. Human, which runs in Soho for four weeks beginning September 5. I am pleased to inform you, however, that three out of five Queer Eyes were at its opening night party.
"At the A. Human store, you'll 'shop' everything from bespoke hearts for you and your lover to biological heels that stem from your legs, and even get to try on some larger-than-life body modifications in our fitting rooms," explains the A. Human ticketing page. There, you can buy entry for $40 or late-night entry for $70.
"In reality," the listing continues, "A. Human is an immersive, theatrical art experience produced by Society of Spectacle, a live entertainment storytelling brand founded by Simon Huck."
If you recognize Simon Huck's name it's either because you're thinking of a combination of Simon Pegg and Huck Finn, or it's because he's a Kardashian family friend. As someone who has regrettably not watched any Kardashian TV, I thought I didn't know who he was until I saw him at A. Human's September 4 opening night event. I, in fact, did recognize him! The Kardashian power extends far beyond the conscious mind.
The Kardashian connection has so far worked out well for Huck, as Kim is currently A. Human's most famous ambassador. She posted a few videos to her Instagram in early August featuring an A. Human choker that seemed to be implanted in her neck. ("KIM KARDASHIAN WEST ALIEN NECK IMPLANT … It's Fashion, Baby!!!" yelled TMZ, of the choker.) Chrissy Teigen, model Andreja Pejic, and Queer Eye's Tan France also posted selfies wearing the body modifications.
This Blair Witch Project–esque social-media tease lent a purposefully confusing aspect to the rollout of A. Human. I truly did not understand what it was going to be until I got there. Was it a store that sells rubber skin necklaces? Was it some kind of play? Was I going to have to have, like, a speaking role in the play? Thank God, no. It was just another one of these things where you take a picture in front of stuff for Instagram.
A. Human presents a future where fashion and body horror combine. On its website it describes itself as a "fashion brand from the future where self-expression isn't defined by what you put on your body, but how you change your body." With heels implanted into women's feet and tentacles implanted into a man's muscular back, it's the place one's mind might travel after getting high and thinking for too long about plastic surgery.
The oddest aspect of the current Instagram-bait pop-up shop culture we live in now, in New York City, is the resilient assertion that these pop-ups are "immersive" experiences. I can't recall what I associated the word with before recent history, maybe a swimming pool or an NYU student studying abroad, but at the moment "immersive" denotes something antithetical to itself — a flat, shallow thing, even less "immersive" than a regular old store.
A. Human is on the higher end of these non-immersive "immersive" non-experience "experiences." It at least looks expensive, and there is at least a story: It's the future, and fashion shit is weird now. The exhibits feature a combination of living humans and non-living rubber bodies packed into dirt, wearing horns and tentacles. There are two large-format sculptures to stand either inside or in front of: a lock of hair and a circle of pink hands. "What if fashion were … uh, this?" the pop-up seems to ask. Like in any good Instagram-bait pop-up, there are also a few colorful walls with words on them. "I AM A. HUMAN," one reads, and you have to admit it is true, except that there was also a dog at the party, and for him it was not.
The "fitting rooms" featured nothing to try on, physically, rather things in the mirror to place yourself in front of for a photograph. There was a "pump room" that contained a little beating heart, which I legitimately thought was a pump room until I walked in. "That's abundantly considerate," I thought, like an idiot would.
So, anyway, yes, three out of five Queer Eyes were at the opening event: Tan France, Antoni Porowski, and Jonathan Van Ness. "I LOVE HIM SO MUCH," a woman passing appetizers mouthed to another woman passing appetizers, after passing Jonathan Van Ness an appetizer. So do I! "JONATHAN VAN NESS AND I MADE EYE CONTACT," one woman said to her friend. They were the clear celebrity attractions of the night even though, for some reason, Katie Holmes was also there, and Kelly Rutherford, and Olivia Palermo — all of these women looked stunning — and Jonathan Chebon, and Simon Doonan, and various people with neon hair dressed like Clarissa Explains It All characters who I assume must have been famous.
As I passed through the hall of body horrors mid-party, I saw Simon Huck talking to a woman I did not recognize. She seemed confused as he explained what, exactly, A. Human was. Were there things to buy, she wondered? "You don't buy, but it's like you're buying," he explained. "It's an experience."