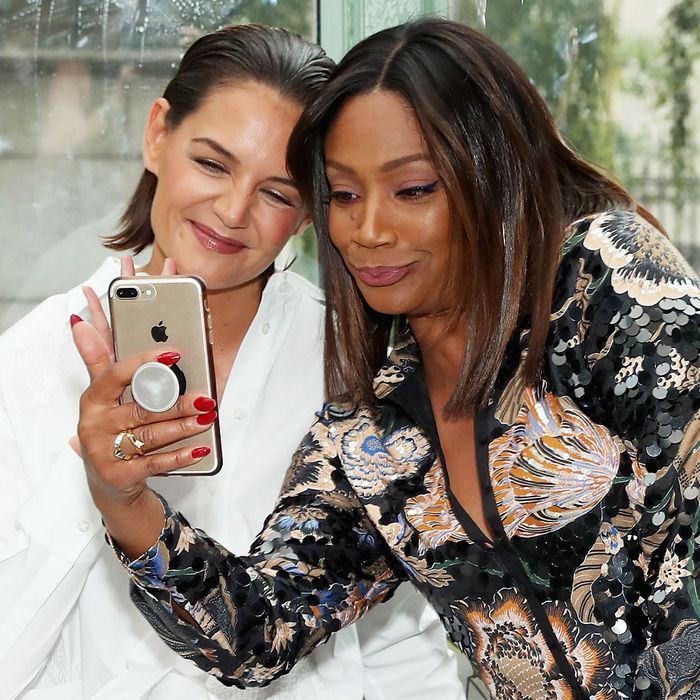 Katie Holmes takes a selfie with Tiffany Haddish.
Photo: Cindy Ord/Getty Images for Tory Burch
I'd never balanced my chakras before, but New York Fashion Week is all about trying new things. On Thursday afternoon at Collina Strada — my first show of the spring 2019 season — I arrived to find a pink healing crystal on my seat and a gong in the middle of a white carpeted runway.
Last season, designer Hillary Taymour — who launched Collina Strada in 2009 — hosted a New-Age bridal procession in lieu of a traditional runway show, marrying her "higher self" at the end. Now, she was looking for some "inner peace" — hence the gong, crystals, and "healing music" being played live as models walked with prayer beads in their hands.
"Through the practice of sound bath I hope to convey that we all have the power to find our clean slate," Taymour wrote in the show notes.
I liked the idea of starting New York Fashion Week with a clean slate this season. Enough with the "Is it dead?" or "Is it back?" rhetoric. Can't we just appreciate it for what it is in the moment, instead of trying to decide if it's more or less fun than last time? (Sorry, that's my chakra talking.)
If nothing else, fashion marks the passing of time, and the fall shows make me feel the same nervous excitement and rejuvenation as the first day of school. Who will I be this year? What will that look like? As Bill Cunningham wrote in his newly released, posthumous memoir, "Constant change is the breath of fashion."
So, with my chakras aligned, I was ready to see some new places and faces on Thursday. After Collina Strada, I headed down to the new 10 Corso Como store, which is located in the fully made-over South Street Seaport district. There, I discovered the names of Italian designers I'd never heard of before, leaving my days of shopping at the Abercrombie & Fitch store across the street behind.
Then, I was introduced to designer Christopher John Rogers, who presented for the first time ever at a gallery in Chinatown. The 2016 SCAD graduate did not hold back; I walked in to find ruffled neon pink gowns, metallic suits, and colorful hats inspired by the church ladies he grew up with in Louisiana. "I want to show that with absolutely no budget — with nowhere to work but your apartment — and a heavy dose of good taste and humor, you can fuck it up and make really beautiful work that's emotional," Rogers said with a smile and a shrug.
New York's current cool young thing, Matthew Adams Dolan, also bathed his audience in neon that afternoon, making me think that the trend's resurgence for fall actually has something to do with numbing the senses. I could understand the impulse to go to a rave and never leave.
Even at Jeremy Scott — a designer whose muse was himself this season — there was still fresh blood to be found. The actress Tiffany Haddish sat front row next to Gigi Hadid, making her New York Fashion Week debut. "This is my very first [show], and so far, I think it's crowded," said Haddish of the scene. She wore a corset top with leather suspender straps, her stylist, Law Roach by her side.
When pressed for fashion advice, Haddish said she didn't "know nothing about no trends," adding "Get back to me in three days." (The following day, she seemed to find some pieces she liked at Tory Burch.)
Roach, however, filled in the blanks: "We don't deal in trends," he said. "We deal in things that are organic and that we feel drawn to. Those that are natural."
Seeing Haddish's eyes widen on Thursday as models walked past made me think that Fashion Week is best if you've never been — or if you act as though you've never been. Pete Davidson, for example, took off his shirt and doused himself with a bottle of water at the John Elliott show, which took place in the sweltering heat at a skate park. I saw his actions a New York Fashion Week baptism, of sorts. It was a new day.