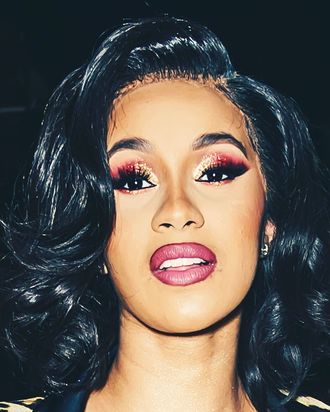 Cardi B.
Photo: Gilbert Carrasquillo/GC Images
Here's a fun side-plot to the New York Fashion Week feuding between Nicki Minaj and Cardi B: Tom Ford has gotten somewhat involved by immortalizing the latter rapper in lipstick form and he doesn't care who knows it.
Backstage at Tom Ford's spring 2019 show last Wednesday, the brand's beauty division debuted a new batch of lipsticks under their Boys & Girls line, a collection of 50+ lipsticks named after real-life humans you've probably heard of (Armie, Sonja, Cristiano, Chadwick), and even some you probably went to school with and are still Facebook friends with for some reason (Ashley, Jessica, Tony). Here's where things get interesting: Cardi, a new sparkly blue shade, was one of several lipsticks recently added to the lineup last week. It was also the first individual lipstick the brand chose to promo on Instagram this past Saturday, one day after the whole Harper's incident.
Is this Tom Ford taking an official stance of being Team Cardi without having to wear a shirt that reads "Team Cardi"? Was this Instagram post already scheduled days before the Icons party altercation took place and this all just a fun, opportune coincidence? Is the turnaround time for creating a sparkly blue lipstick less than 24 hours? Does anyone remember Nicki's M.A.C Viva Glam lipstick collaboration and the two lipsticks after that?!
There are still many questions left to be answered, and while some commenters were disappointed with Tom Ford's decision to align with Cardi during this controversial time, the blue lipstick quickly sold out in one day, which is almost as fast as Nicki's hair color changes between runway shows and after-parties. Sorry!