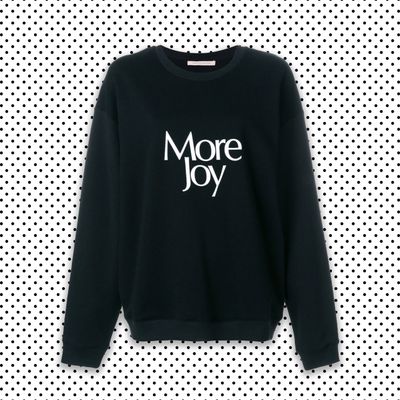 Photo: Courtesy of the Retailer
I love this Christopher Kane sweatshirt that screams "More Joy." The message seems so nice, doesn't it? We could all use more joy, more happiness, more lightness. But that's not exactly what Christopher Kane means with this sweatshirt, and that's what makes it so great.
The shirt comes from Kane's FW 2018 collection, which was partially inspired by The Joy of Sex. The revolutionary sex manual was released in 1972 as horny riff on the more pedestrian The Joy of Cooking. Kane, who loves a sexual reference, transferred some sketches in the book onto beautiful, NSFW gowns — which I also want but are far out of my price range. If you are like me, you can turn to the sweatshirts which also walked the runway.
The genius of the shirt is the reverse of the genius of The Joy of Sex. It takes something that is sexual and turns it into something pedestrian. Most people who see it will think you're advocating universal happiness, and they will probably agree with you. But you'll know the double meaning, and that will bring you joy.
If you buy something through our links, New York may earn an affiliate commission.