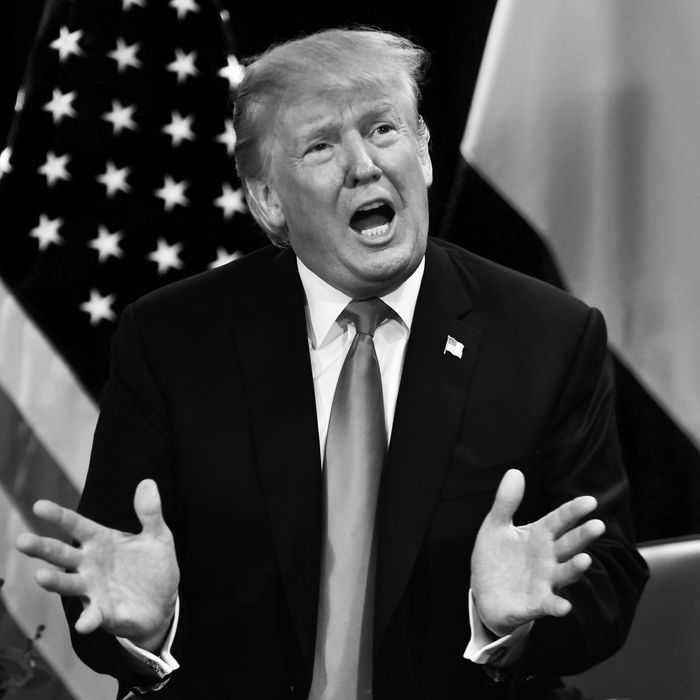 President Donald Trump.
Photo: NICHOLAS KAMM/AFP/Getty Images
In a Sunday report by The New Yorker, Deborah Ramirez claimed that Supreme Court nominee Brett Kavanaugh had sexually assaulted her during a dorm party while they were both students at Yale University. Ramirez was open about the fact that she had been drinking at the time of the incident, though she also said she clearly remembered Kavanaugh had been the assailant. But on Tuesday, during a meeting at the U.N. General Assembly, President Donald Trump — a man accused of multiple instances of sexual assault — tried to discredit Ramirez's claims for that very reason, saying she "has nothing," since she "admits she was drunk."
Ramirez said she and Kavanaugh attended a party when they were both freshmen at Yale. While participating in a drinking game, she became drunk, at which point she says Kavanaugh exposed himself, thrust his penis in her face, and caused her to touch it against her will in the process. She acknowledged to The New Yorker that there were significant gaps in her memory from that night, but she recalls, "Brett was laughing. I can still see his face, and his hips coming forward, like when you pull up your pants." A male classmate also told The New Yorker that he was "one-hundred-per-cent sure" he heard after the party that Kavanaugh exposed himself to Ramirez.
During a Tuesday meeting at the U.N. General Assembly with the president of Colombia, Trump tried to discount Ramirez's claims. "The second accuser has nothing," he told reporters, per the Hill. "She thinks maybe it could have been him, maybe not. She admits that she was drunk. She admits that there are time lapses." He also went on to call both Ramirez and Christine Blasey Ford's allegations against Kavanaugh a "con game" by the Democrats.
There's a known link between alcohol and assault, especially in college students. The National Institute of Justice states that at least half of sexual assaults that occur among college students happen when the perpetrator, victim, or both consume alcohol. Furthermore, the National Institute on Alcohol Abuse and Alcoholism states that, according to a 2015 study, each year 97,000 students between the ages of 18 and 24 report experiencing alcohol-related sexual assault or date rape. Perhaps Trump should consider those statistics before he speaks next time?