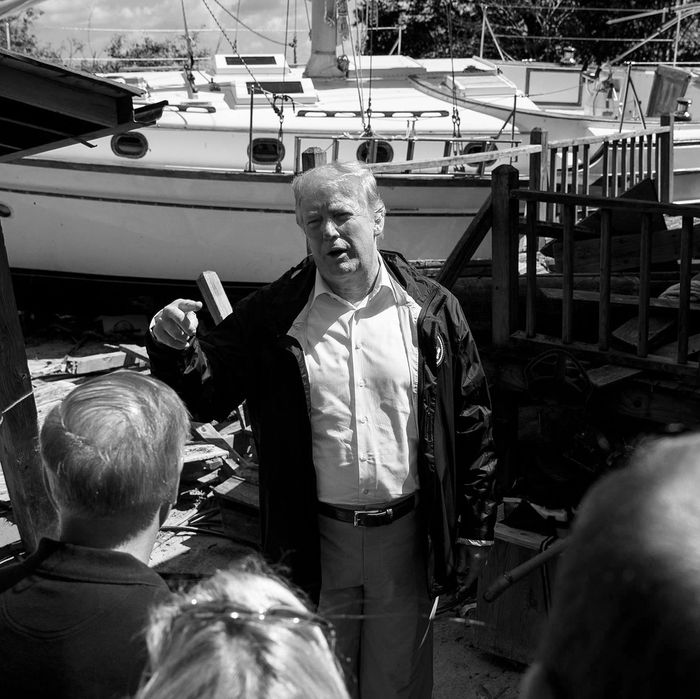 Trump and boat.
Photo: Evan Vucci/AP/REX/Shutterstock
President Trump is in North Carolina today, visiting victims of Hurricane Florence. The storm has devastated communities, flooding acres of land, destroying homes, and displacing thousands of people. But, as the president pointed out today, there are always silver linings, like cool trash that washes in and wrecks your house.
According to a truly astounding pool report shared by New York Times reporter Emily Cochrane, President Trump marveled at a boat that had shipwrecked on a man's wooden deck. He asked the man if it was his, and when he said no, the president replied, "At least you got a nice boat out of the deal."
He added, "It's incredible what we're seeing," and "the boat just came here," which is an interesting way to describe being swept up by violent floodwaters and crashing into a house.
The president also speculated about the legalities of the situation, noting, "They don't know whose boat that is. What's the law? Maybe it becomes theirs."
The pool report also said the president met a man who said he named his dog after him, but clarified that "Pool could not determine whether the name was Donald or Trump or both." They also did not specify what kind of dog it was, or whether or not it was a sweetie.
So far, unlike during his previous visits to hurricane victims, Trump has not complained about plastic gloves being too small, nor has he hurled paper towels at anyone.