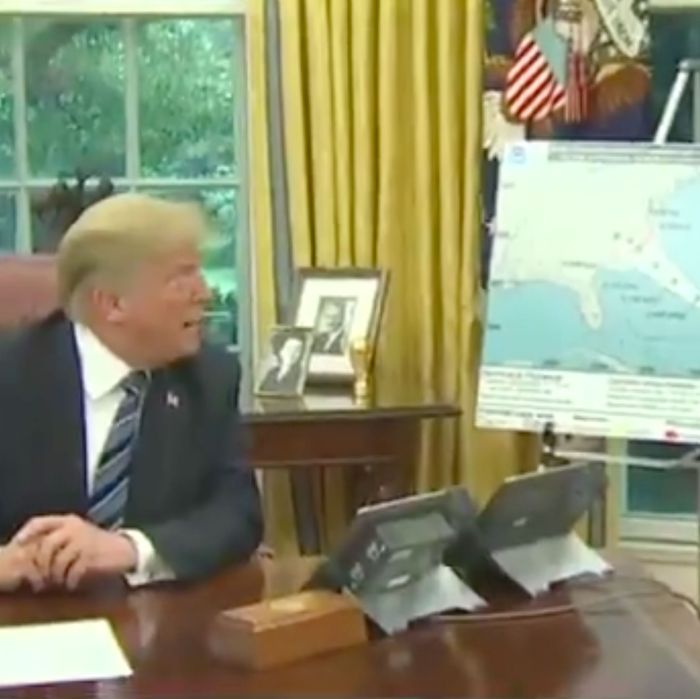 Donald Trump.
Photo: Fox News
Currently, Category 4 storm Hurricane Florence is barreling its way across the Atlantic Ocean toward the Carolinas and Virginia, prompting large-scale evacuations and threatening to cause enormous amounts of damage wherever it makes landfall. Or, as President Trump described it in a Tuesday afternoon press conference in the Oval Office, it is "tremendously big, and tremendously wet."
"The safety of the American people is my absolute highest priority. We are sparing no expense. We are totally prepared, we're ready, we're as ready as anybody's ever been," Trump said from behind the Resolute desk.
"The places that are in the way and in the most jeopardy would be Virginia, North Carolina, South Carolina, that area. They haven't seen anything like what's coming at us in 25, 30 years, maybe ever. It's tremendously big and tremendously wet," he added, before emphatically enunciating, "Tremendous amounts of water."
The president also praised his own administration's hurricane-relief efforts in Puerto Rico following Hurricane Maria last year, which, for him, involved hurling paper towels into a crowd and dedicating a golf trophy to victims of the hurricane. Today, Trump called the response "an incredible, unsung success," even though the government recently raised the official death toll to 2,975.
"God help us all," San Juan mayor Carmen Yulín Cruz wrote in a tweet after his statement.