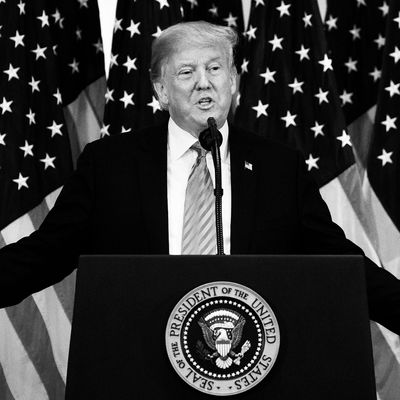 President Donald Trump.
Photo: Evan Vucci/AP/REX/Shutterstock
President Donald Trump delivered an unhinged press conference on Wednesday evening, discussing everything from the U.N. General Assembly to the allegations made against Supreme Court nominee Brett Kavanaugh, often veering off-topic to make comments unrelated to reporters' questions.
Throughout the press conference, Trump also made multiple comments about women: his accusers, Brett Kavanaugh's accusers, angry women in general, the women who voted for him, and even women who may have had an issue with George Washington. Here's what Trump said.
Trump acknowledged that he has been accused of sexual assault, but says that the "four or five" women were paid to lie about it.
When asked if his own experience being accused of sexual assault has shaped his viewpoint about the Kavanaugh accusations, Trump cut the reporter off before she could finish her question. "I've been accused. I've been accused," he said. "I was accused by, I believe it was four women. Check with Sean Hannity, you can check with Fox."
Trump has actually been accused of harassment or assault by at least 19 women, with allegations ranging from unwanted kissing to rape. But Trump said on Wednesday that the "four or five" women he was referencing were paid to say "bad things" about him. Trump also said all of the allegations against him are false.
When that same reporter tried to finish her question, Trump told her to "please, sit down."
Trump claimed he got 52 percent of women's vote in the 2016 presidential election.
"I got 52 percent with women, no one said that would happen," said Trump. He did not get 52 percent of women's votes. Exit polls showed that he got 52 percent of white women's votes, and only 41 percent of women's votes in total. He received only 4 percent of black women's votes, and 25 percent of Latina women's votes, according to the polls.
Trump observed that "women are angry" about … the delay in Kavanaugh's confirmation hearing.
Speaking about the delays in Kavanaugh's confirmation hearings, Trump said that the people who are most angry are women. "The people who have complained to me about it the most are women," Trump said. "Women are very angry."
"Women are so angry, and I frankly think that, I think they like what the Republicans are doing," he said. "I mean I have men who don't like it, but I mean. The women are incensed. I've always said that women are smarter than men, and I mean it."
He ostensibly referred to the third Kavanaugh accuser as "another beauty."
When asked if he could understand why a woman would wait to report a sexual assault, Trump stuck his hand out, motioning for the reporter to stop talking. "Thirty-six years, there's no charge. All of a sudden, the hearings are over, and the rumors start coming out," Trump said. "And then you have this other con artist, Avenatti, come out with another beauty today."
Trump was apparently referring to Julie Swetnick, who came forward with an accusation that Brett Kavanaugh was in the room while she was gang-raped in high school. Michael Avenatti, Stormy Daniels's attorney, is the lawyer representing her.
When asked if he thought the women accusing Brett Kavanaugh were liars, Trump said Democrats would have voted against even George Washington, who "may have had a bad past."
Asked if he believed that the women who accused Kavanaugh of assault are liars, Trump said that he would watch Thursday's Senate Judiciary hearing to make a determination about their claims. "I can't tell you, I have to watch tomorrow," he said.
"Judge Brett Kavanaugh has been, for many years, one of the most respected people in Washington," Trump said, in response to being asked if he believed the women accusing Kavanaugh were liars. "Every single person knows him. A lot of people know him well. And those people don't believe what's going on."
He then said that "Schumer and the con artists" wouldn't even vote for George Washington.
"Look, if we brought George Washington here and we said, look we have George Washington, the Democrats would vote against him," Trump said. "And he may have had a bad past. Who knows. He may have had a couple of accusations. Didn't he have a couple of things in his past?"
George Washington owned slaves.
Kavanaugh and Christine Blasey Ford will testify on Thursday at a Senate Judiciary hearing about Ford's allegation that he attempted to rape her while they were both in high school. Kavanaugh's second and third accusers, Deborah Ramirez and Julie Swetnick, do not have any scheduled hearings before the senate's vote on Kavanaugh's confirmation on Friday. During Trump's press conference, a fourth woman came forward with an allegation of sexual misconduct against Kavanaugh.