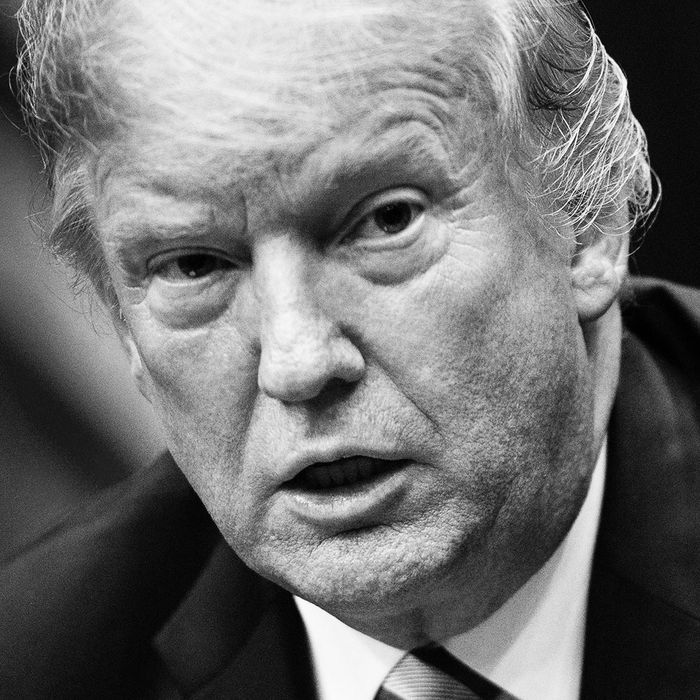 Donald Trump.
Photo: NICHOLAS KAMM/AFP/Getty Images
According to a New York Times op-ed authored by an anonymous senior official in the Trump administration, there is a cohort of White House officials who are "working diligently from within to frustrate parts of [the president's] agenda and his worst inclinations." And Donald Trump, a man who despises an anonymous source, is mad.
Predictably, rather than focusing on Trump's devastating policies and political appointments, the op-ed focused mostly on his lack of civility: his "misguided impulses," his behavior that is "detrimental to the health of our republic," and his tendency to engage in "repetitive rants." Also predictably, the president responded in a repetitive, ranting statement, proclaiming that the piece was written by someone "who's failing and probably here for all the wrong reasons."
"Can you believe it?" he demanded indignantly. "Anonymous, meaning gutless. A gutless editorial."
White House Press Secretary Sarah Huckabee Sanders issued her own condemnatory response to the Times editorial, decrying it as "pathetic" and demanding that the "coward" behind the piece "do the right thing and resign."
"The individual behind this piece has chosen to deceive, rather than support, the duly elected President of the United States," she said in a statement. "He is not putting country first, but putting himself and his ego ahead of the will of the American people."
Shortly after Trump gave these statements, seemingly still stewing from reading that "his impulsiveness results in half-baked, ill-informed and occasionally reckless decisions that have to be walked back," he decided to continue venting on Twitter. "TREASON?" he tweeted, simply, in all caps.